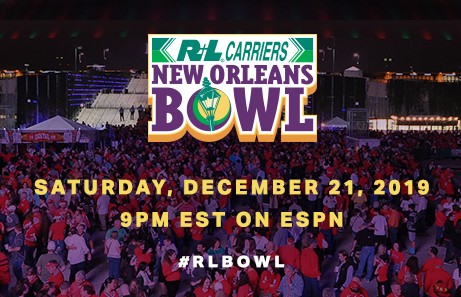 Appalachian State ran through its schedule en route to a 12-1 record with two wins over Power 5 schools and it gets the New Orleans Bowl against a team who lost the C-USA title game 49-6. And so, the Mountaineers may finish as the biggest favorite of bowl season and were early -16.5 point favorites in the boca raton bowl with an over/under of 48.
The main question for App. State is the coaching staff after Eli Drinkwitz went to Missouri following the end of the regular season. Soon after, offensive line coach Shawn Clark signed on to become the head coach of the future.
There are questions on the defensive side and if defensive coordinator Ted Roof will be with the team, but the core is still there from the regular season for the Mountaineers. Their lone loss came against a tricky triple-option, while they also have wins over North and South Carolina.
It's not quite the same situation for UAB, who beat one bowl team and that came late in the season at home against Louisiana Tech. Otherwise, they finished 9-4, yet were blown out by FAU, USM and Tennessee in the second half of the campaign.
They had a good season but didn't really show up against good teams. The somewhat good news for UAB backers is that it beat South Alabama 35-3 early in the season, a team App. State beat 30-3 on the road in late October.
Of note, South Alabama finished with two wins and wasn't a good team. In addition to that, App. State beat Charlotte 56-41 early in the season, a fellow C-USA team that had a similar record to UAB
The problem is that App. State is better on both sides of the ball and its defense improved as the season moved along. The Blazers will need to step up defensively if they want to have a chance because while they have good overall numbers, allowing less than 300 yards and 20.8 points per game, that didn't matter against FAU or any of the better offenses in the conference.
The Mountaineers shouldn't change much under their new head coach and that means a run-heavy attack with solid quarterback play.
Running back Darrynton Evans had an awesome season rushing for 1,323 yards and 17 touchdowns on 5.6 yards per carry while Marcus Williams and quarterback Zac Thomas helped in the running game when needed.
Thomas threw for 149 yards and the offense scored 45 points in the Sun Belt title game if that says anything about how it rolls. Thomas still posted decent numbers for the season, averaging 7.7 yards per pass for 26 touchdowns and six interceptions.
App. State wasn't a dominant group defensively, but it held its own in most cases, allowing 20.2 points per game and maybe most relevant for this matchup, 3.9 yards per carry.
UAB had nine wins, yet its offense wasn't a strong suit. The Blazers surpassed 30 points in their first three non-conference games against bad competition, but they averaged just 23.6 points per game for the season.
They are also a run-first team, but their quarterbacks had a massive interception issue. Both Dylan Hopkins and Tyler Johnston will likely see time under center and while the latter has a solid 9.1 yards per attempt, they have a combined 18 touchdowns and 19 interceptions.
They prefer to focus on the ground game, though that's averaging 3.9 yards per carry, mostly behind Spencer Brown who leads the team with 527 rushing yards.
This is a large spread, but App. State isn't much different than the FAU team that destroyed UAB 49-6 in the C-USA title game. The question is how much the absence of Drinkwitz hurts the Mountaineers.
App. State is 8-1 ATS in its last nine non-conference games and the over is 7-1 in its last eight against a team with a winning record. UAB doesn't have many relevant trends as it was 7-6 ATS this season with the under being 7-5-1.
Our Pick – Our numbers suggest App State wins and covers this game easily. A look at the road yards per point numbers hammers that point home:
UAB – 18.1 – 12.2
App State – 12.1 – 19.5
To simplify those ypp numbers, they show a team that can't score or stop anyone against a team that can score and be stingy defensively.
Our model also shows an App State win by a 20+ points.
With that said, we have to use caution here. App State can't be happy about this draw. They beat North Carolina and South Carolina this year, proving they can play with major conference teams. A 12-1 season brought hopes of a higher profile game.
But they claim to be motivated by the chance to go 5-0 in their first 5 bowl appearances as well as the chance to be the 1st FBS team from North Carolina to win 13 games in a season. We'll take them at their word.
App State -16.5