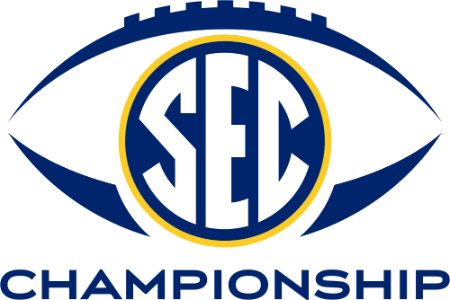 LSU doesn't have to show up to the SEC title game and it'll still get into the College Football Playoff, but Georgia needs to win in order to have a chance. The Tigers, who could move up to the No. 1 seed with a win, opened as -7.5 point favorites with an over/under of 54.5 for the game at Mercedes-Benz Stadium in Atlanta.
There were no questions about who should be in this game after Alabama lost at Auburn last weekend. LSU ran through its competition, while Georgia slipped up in one game against South Carolina and won the rest.
This is a pure offense against defense matchup and one LSU may have trouble scoring in. Against the one defense close to the same level as Georgia's, LSU barely beat Auburn 23-20. While it moved the ball, it wasn't nearly as explosive as every other contest.
No matter what happens, quarterback Joe Burrow is likely set for the Heisman, completing 78.3% of his passes on 10.9 yards per attempt for 44 touchdowns and six interceptions.
He'll also rush when needed and has more than 400 rushing yards for the season if you take away sacks. As a team, the Tigers are averaging 5.0 yards per carry, but running back Clyde Edwards-Helaire is a bit better at 6.8 ypc for 1,233 yards and 16 touchdowns.
Then you have two of the best receivers in the game with Ja'Marr Chase and Justin Jefferson, who are both over 1,000 yards and combine for 30 touchdowns, and this offense routinely blew away opposing defenses.
But while Georgia's defensive numbers are elite, allowing 257 total yards and 10.4 points per game, it's hard not to look at the schedule.
In terms of yards per play, LSU is second in the country at 7.6. The next toughest opponent Georgia faced was Notre Dame at 6.2 yards per play and Florida at 6.0. That's a major difference and something that probably shouldn't be overlooked.
As for LSU's defense, it's been fine. It showed up in a big way and dominated Texas A&M last week, but prior to that, it was allowing points to most opponents, no matter how bad they were. Maybe the most important stat is that the Tigers are allowing 3.7 yards per carry and 124.5 rushing yards per game, which is where the Bulldogs will attack.
Georgia is far from a high-flying offense and if its defense gets shown up, it'd be a surprise if Jake Fromm can keep up. The junior's numbers have been down across the board, completing 62.0% of his passes for 7.6 yards per attempt, and he's failed to complete more than 50% of his passes in the last four games.
That's a major issue if LSU gets out to an early lead because D'Andre Swift probably won't be able to win the game by himself. He's averaging 6.2 yards per carry for 1,203 yards and seven touchdowns, but he's surpassed 113 yards just twice.
It doesn't help that he injured his shoulder last week, which means Brian Herrien and Zamir White could get a few more carries.
This matchup will show how legit the Georgia defense is. There's a chance it contains Burrow and keeps this game competitive, or LSU runs away with it, while Georgia struggles to surpass 30 points.
Georgia has covered its last five December games and the under has hit in six of its last seven games overall.
However, the over is 8-4 for LSU this season and has hit in three of the last four. The Tigers are 3-0-1 ATS in the last four meetings between these schools and the over is 7-1 in the last eight.
Our Pick – You can take the results from several games played by both teams this year and toss them. Chattanooga, Ga Southern and Northwestern State come to mind for LSU. Georgia has their cupcakes as well.
If you take a look at the legitimate teams LSU has faced, the Tigers may not seem quite as daunting.
LSU 45 Texas 38
LSU 42 Florida 28
LSU 23 Auburn 20
LSU 46 Alabama 41
Further consider that both teams played Auburn and Florida with Georgia beating Auburn 21-14 on the road and beating Florida 24-17 at a neutral site. LSU had both of those games at home.
After a full season of play, both of these teams have posted some great numbers but to us, it's the Georgia defense that really stands out. We can talk about schedule strength but in reality, LSU's was only a couple of points more difficult than Georgia's.
Our model has a straight up Georgia win by anywhere from 3 to 8 points depending on the time frame parameters used (full season, last 7 games etc.).
Look for the Georgia defense to be the difference.
Georgia +7.5