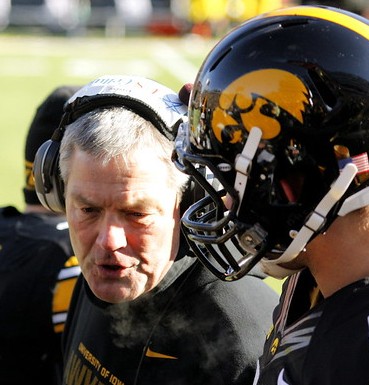 Iowa is the preseason 20th ranked team in the nation and they put that ranking on the line hosting Miami (Ohio) in both team's season opener. The Hawkeyes are a big 21.5-point betting favorite with a total of 49.5 and these teams have not met since the 2016 season.
Miami is coming off a 6-6 season where they won their last three games to finish at .500. However, they were 0-3 in their non-conference games and in their only one facing a Power 5 conference team they lost to Minnesota 26-3.
The RedHawks were a solid 8-4 ATS last season but failed to cover in their three non-conference games and they are only 1-7 ATS in their last eight non-conference games.
Iowa was 9-4 last season winning a bowl game and they won all three of their non-conference games where they outscored their opponents 84-24.
The Hawkeyes were 8-5 ATS last season and in their last five non-conference games they have covered the spread every time.
New Guys have to Step Up
Miami lost their starting QB and their top two RB's and the new players in those skill positions have to step up.
Sophomore Jackson Williamson will likely get the start in this game under center and speedster Maurice Thomas is the leading returning RB and he only had 233 rushing yards last season. However, the WR corps is a good one and there are some young RB's in the fold that are highly touted.
WR Jack Sorenson caught 53 passes for 742 yards last season and 6'5" Luke Mayock averaged 14.5 games per reception.
The RedHawks will face an Iowa defense that ranked 7thin the nation last season but lost seven starters and their top four tacklers. However, they still have talent on D and AJ Epenesa may be the best DE in college football, so the Miami line will have their hands full trying to move the ball, especially on the ground.
No Longer Tight End U
Iowa had two tight ends go in the top 20 picks in the NFL draft and they not only lost those guys, but their top WR.
Nate Wieting and Shaun Beyer are the two new TE's and the WR duo of Brandon Smith and Ihmir Smith-Marsette have high expectations. To reach them they will need senior QB Nate Stanley to finally fulfill his potential and last season he passed for 2,862 yards with 26 TD and 10 INT. He has the next level talent and is look for a big season to carry the Iowa offense.
No shock that Iowa will have another great offensive line, like usual, but last season the run game averaged fewer than four yards per carry. Mekhi Sargent and Toren Young, who combined for 1,382 yards and each averaged 4.7 yards per carry last season, return, but have to get more yards on the ground behind a great line.
Miami had a decent defense last season, but they lost their top four tacklers. They should be solid again, but the run D is a little bit of a concern.
Our Prediction
While Miami is 4-1 ATS in their last four road games all of those games were in the MAC. They are only 2-5 ATS in their last seven games facing teams from the Big 10, but they did cover the 27.5-point spread in their 2016 loss to Iowa where they fell 45-21.
Iowa has failed to cover in five of their last seven games facing teams from the MAC, but do not look for that trend to continue. Stanley and the run game for the Hawkeyes will step up in this game as will the defense and this game will get ugly early and Iowa will easily win and cover the big spread.
Our Pick – Iowa -21.5