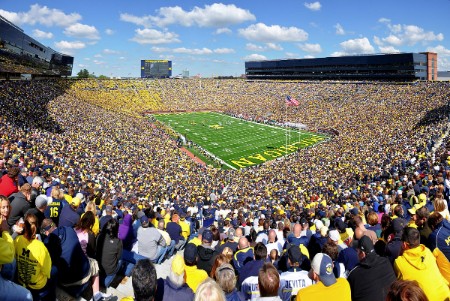 Michigan got back on track last week, but outside of its own fans, not many want to back the home team in this game. The Wolverines are still the better team in terms of the numbers as a -5 point favorite early in the week against Iowa with an over/under of 48.
Michigan just put a beating on Rutgers, but its previous three games were a bit more suspect, from needing overtime to beat Army to getting throttled by Wisconsin. It's been a bit smoother for Iowa, who oddly already has two similar opponents.
In comparison, Michigan beat MTSU 40-21 and Rutgers 52-0, while Iowa beat MTSU 48-3 and Rutgers 30-0. Iowa's most impressive result was still probably the in-state battle against a solid Iowa State team. In this matchup, the home team has won the last four meetings, but the last time they played was 2016.
This game will likely be decided by whichever offense can move the ball more consistently. Both thrive on the defensive end, but offense will likely be something that holds each back at some point this season.
Surprisingly, the Hawkeyes may have the more efficient group with senior quarterback Nate Stanley leading the way. He's not flashy, but he's averaging 8.2 yards per attempt with eight touchdowns and he's yet to throw an interception.
As long as he plays smart in this game, the Hawkeyes will be in contention. The question will be if they can run the ball between Mekhi Sargent and Toren Young, who are both averaging more than five yards per carry. 
Michigan's run defense has been its weakness and that's the first place Iowa will attack, similar to what Wisconsin did against them a couple weeks ago. Even if they can simply move the chains here and there, that will be enough for Stanley to put points on the board.
As for the UM offense, it's had trouble against any relevant defense it's faced. Shea Patterson doesn't have much worse numbers than Stanley, averaging 8.0 yards per attempt for six touchdowns, but he also has two picks and has been sacked a few more times.
Combine that with a subpar ground game and if that continues, this offense won't be good enough to beat better teams. Neither of the top running backs in Zach Charbonnet and Christian Turner are averaging more than 4.5 yards per carry and while at home, it won't be easy finding holes against this defense.
If those guys struggle to find room, a la the Wisconsin game, then it will be on Patterson to do the rest and so far he hasn't shown he can win a game by himself.
Michigan was the better rated team before the season, but Iowa has its sights set on the Big Ten title game and it needs a win here to match Wisconsin if it wants to do that.
The over is 8-1 in Iowa's last nine road games and 5-0 in Michigan's last five home games against a team with a winning road record.
The Wolverines have failed to cover in their last four against a team with a winning record and the underdog is 9-3 ATS in the last 12 meetings between these schools.
Our Pick – UNDER 48