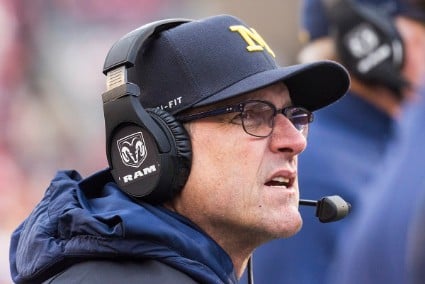 Michigan will host Middle Tennessee on August 31st to kick off their 2019 college football season. The Wolverines are 32.5 point favorites at 5 dimes as of this writing with a total of 54. The betting action has been lopsided in favor of Michigan as one might expect.
It's now or never for Jim Harbaugh and Michigan, at least that's the national sentiment. The Wolverines are still expected to finish behind Ohio State in the Big Ten, though have the fifth-best odds to make the College Football Playoff.
Of course, they've had similar odds the last few seasons and haven't lived up to expectations. That being the case, they've crushed weaker opponents, which is what they have in the opener against Middle Tennessee.
Big Expectations for Shea Patterson
Michigan ended last season with a thud, losing its final two, but still had huge wins at home against almost every opponent and that should be the case here. A lot is expected of quarterback Shea Patterson, who was electric at times last year, yet finished with a mediocre 22 touchdowns and seven interceptions on 8.0 yards per attempt.
Those numbers should jump with a stocked receiving corps that features Donovan Peoples-Jones, Nico Collins and Tarik Black. While running back is unknown, it shouldn't be a problem with four starters back on the line. 
MId Tenn Defense May Struggle
All of that should come to fruition because even though MTSU's overall defensive numbers were good last year, they gave up 40-plus points to its top two opponents (Georgia, App. State), as well as 34 to Kentucky.
They have pieces returning at every level, but they also were boom or bust, always in attack mode, which probably won't work in this game. If they try and get after Patterson, that'll likely lead to big plays and it doesn't help that he's decently mobile.
The other problem for the Blue Raiders is that they'll start the season with a new quarterback for the first time in five years. The coach's son is gone with a few guys still fighting for the job a couple weeks before this game.
Asher O'Hara and Chase Cunningham were thought to have a 1-on-1 battle, but JUCO transfer Randall Johnson was added to the mix in the offseason. While wide receiver Ty Lee and running back Chaton Mobley are still there, that probably won't matter in this game behind an inexperienced and subpar line. Even with a record-breaker at quarterback, the offense struggled to move the ball against better defenses last year. 
Can Mid Tenn Hang Around?
Michigan lost a lot of talent from last year's dominant defense, but it still should have its way in this matchup. It may be impossible for the MTSU quarterback to throw on this secondary with guys like corner Lavert Hill and safety Josh Metellus on the back end.
The front has a few more questions, but Carlo Kemp and Devin Gil bring some experience and that should be enough to limit Middle Tennessee to 10 points or less.
The Wolverines have a big target on their back per usual, but that probably won't matter in this game against a team who could change quarterbacks every couple of weeks. Patterson and company should have an easy time running up the score and that should be enough to get the cover, assuming the defense doesn't take a major step back.
Our Pick – Michigan -32.5