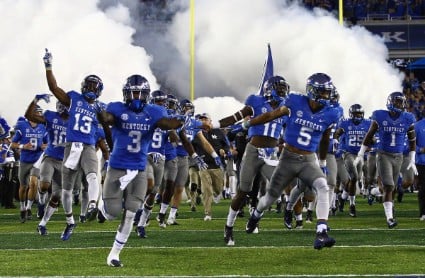 Kentucky has been forced due to injuries to start a WR at QB recently and last week in the rain against Georgia it was not pretty for Lynn Bowden Jr. He went 2 for 15 passing for only 17 yards, but did have 99 yards rushing on 17 carries.
Kentucky's defense held strong for most of the game, as it was a 0-0 score at half against a top tier team, they ultimately lost 21-0. Missouri was on a 5 game winning streak heading into Vandy last week and lost straight up as 21 point favorites.
Big time transfer QB Kelly Bryant had a poor game, with only 140 yards passing and 1 TD with 1 INT.  They couldn't get the running game going either. Last week may have been an anomaly and the Tigers can get back to their winning ways this weekend, as they continue to battle Florida and Georgia for the top spot in the SEC east. 
This week is a must win for Missouri as they play Georgia and Florida in the next two weeks. Coming in as 10.5 point road favorites seems like Vegas has a lot of faith in the Tigers, or maybe just zero faith in the quarterback situation for Kentucky.
On the other hand, looking ahead at Kentucky's remaining schedule and they have a very real chance to win out and go to a bowl game, but it must start this week. 
Kelly Bryant has been a real bright spot for the Tigers; he is 4th in the SEC in passing yards and 3rd in passing touchdowns.  He is the leader on this high powered offense that currently is averaging 35 points per game. 
Kentucky's offense has been held together by a shoelace and bubble gum this year, so many injuries across the board has not allowed for them to get into any kind of a rhythm. Besides beating a terrible Arkansas team two weeks ago the offense has showed very little sparks.
Kentucky is a run first team and now with Bowden utilizing the QB sneak on designed runs and Asim Rose who leads the team in rushing and Missouri will stack the box and force Bowden to throw to beat them and he hasn't shown that potential yet this season. 
Kentucky has won the last 3 matchups between these two, including a close 15-14 win last year.
Our Pick – Kentucky +10.5