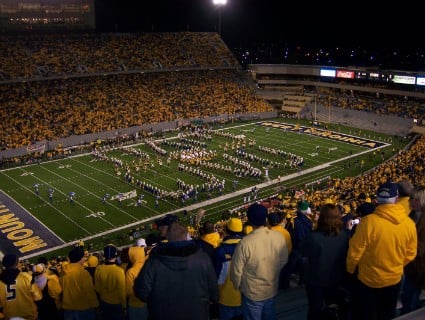 North Carolina State is off to a solid 2-0 start and they are a 7 point road betting favorite in this non-conference game facing a West Virginia team that was throttled in their last game.
The Wolfpack are 2-0 winning both of their games in blowouts outscoring their opponents 75-6. However, their two wins have come against East Carolina and Western Carolina, who each had three wins last season.
While West Virginia played a Power 5 team in Missouri in their last game it was nothing to write home about in a 38-7 loss. The Mountaineers obviously struggled on offense in the loss and this was after only putting up 20 points in their season opening win over James Madison.
These teams have not faced each other since back in the 2010 season.
NC State is 4-0 ATS in their last four games against teams from the Big 12 while WVU is 0-5 ATS in their last five games facing teams from the ACC.
Dominating would be an Understatement
In NC State's last game, they beat Western Carolina 41-0 where they outgained them 540 yards to 106 yards. They had balance in the blowout win on offense and they held WCU to only gave up a grand total of eight rushing yards.
Matthew McKay passed for 200 yards with a TD and no INT and the Wofpack rushed for 309 yards with Zonovan Knight rushing for 119 yards.
Knight and Jordan Houston have combined for 279 rushing yards on the season and while McKay has 508 passing yards, he only has two TD.
Look for Knight and Houston to get a lot of touches in this game facing a West Virginia team that gave up 232 rushing yards in their bad loss to Missouri.
Offense could use a Boost
The West Virginia offense has sputtered on the season and they only had 171 total yards in their loss to Missouri. They did have 141 passing yards, but only 30 yards on the ground and they turned the ball over three times and did not force any turnovers.
Austin Kendall passed for 137 yards and did have a TD but was also picked off twice. He passed for 260 yards in the opener against James Madison and it looks as of the offense will have to fall on his shoulder with the lack of a run game for the Mountaineers.
West Virginia has simply not run the ball well at all, as they not only had 30 rushing yards in the loss to Missouri, but only 34 in the win over James Madison.
Alec Sinkfield leads the team with 30 rushing yards after two games and led the Mountaineers with 27 yards in the bad loss to Mizzou. WVU has to establish the run, but they simply do not have the backs to do it.
Our Prediction
NC State has failed to cover the spread in four of their last five road games, but their last four road games have come facing North Carolina, Louisville, Syracuse, and Clemson.
West Virginia has failed to cover the spread in both of their games this season and in their last five games, overall, they are 0-3-2 ATS.
I don't think West Virginia will be embarrassed in this game like they were in their last one. Sometimes the best time to wager on a team is when all looks lost. This looks like a good spot to buck the public.
PICK: West Virginia +7