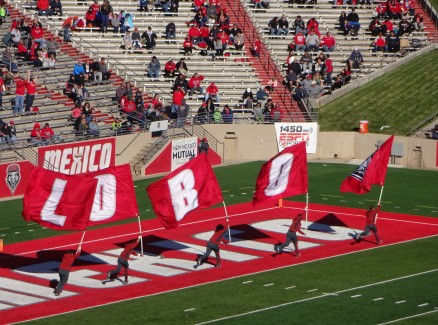 The New Mexico Lobos season win total betting line has been set at over or under 4.5 wins for the 2019 season. Bettors have favored the under in early betting action.
New Mexico had higher hopes last year, but injuries derailed those thoughts and it finished with another 3-9 overall record with just one win in the Mountain West.
Following those struggles, head coach Bob Davie changed things up and added new coordinators on both sides of the ball.
That could help, but the biggest thing for the Lobos to have success is the health of their quarterback, who didn't play a full three games last year.
Four Linemen Return for 2019
Joe Dailey (Liberty) is the new coordinator, but the offense will still run the same basic principles in a combination of the triple option and spread. Quarterback Tevaka Tuioti will try and unleash things after getting injured early last year, though Sheriron Jones is waiting to take his spot again.
The best news for the offense is that four linemen return and that'll hopefully lead to more than 3.6 yards per carry. If those guys can build on last season, this group has a decent chance to improve, especially if Tuioti can get going.
Running back is a slight question with some unknowns like Ahmari Davis and Daevon Vigilant expected to step into bigger roles, and freshman Chad Alexander is also in the mix.
It's the same case at wide receiver with Q' Drennan, Jay Griffin, Elijah Lilly and tight end Marcus Williams the top returnees from a defunct passing game.
Only 2 Returning Starters on Defense
That said, the defense probably has more work to do returning only two starters from a group that allowed 473 yards and 36.2 points per game.
New coordinator Jordan Peterson will try and light a fire under them after serving as the safeties coach the last couple years.
The line brings in the most experience with returning starters Nahje Flowers and Aaron Blackwell, but also Georgia Tech transfer Trent Sellers, who didn't play a down last season due to injury.
Those guys along with middle linebacker Alex Hart (returning from injury) will aim to turn the defense around while the other spots are a little more unknown.
There are plenty of upperclassmen throughout this defense, especially in the secondary, but most of them don't have starting experience, which could be a problem early.
An Outside Shot at a Bowl Game
New Mexico would like to get back to a bowl at some point, but with so few returning starters, this doesn't look like the year that will happen. The Lobos get some help, though, with three winnable non-conference games, as well as drawing SJSU in cross-division play.
Of note, they lost at home to Liberty last year and while UNM stole Liberty's defensive coordinator, that's still not a free win. In addition to SJSU, there are a few more spots for wins with CSU, Hawai'i and Air Force all coming to Albuquerque.
If Tuioti can provide a spark for the offense, there's a slight chance the Lobos reach six wins, but that's probably asking a lot when the defense lacks experience at most positions. At the least, four or five wins is a good projection if the offense can find more consistency.
The Lobos are at Notre Dame Sept 14th. Irish Preview Here
2019 New Mexico Lobos Football Schedule
Aug. 31 vs. Sam Houston State
Sept. 14 at Notre Dame
Sept. 21 vs. New Mexico State
Sept. 28 at Liberty
Oct. 4 at San Jose State
Oct. 11 vs. Colorado State
Oct. 19 at Wyoming
Oct. 26 vs. Hawai'i
Nov. 2 at Nevada
Nov. 9 vs. Air Force
Nov. 16 at Boise State
Nov. 30 vs. Utah State