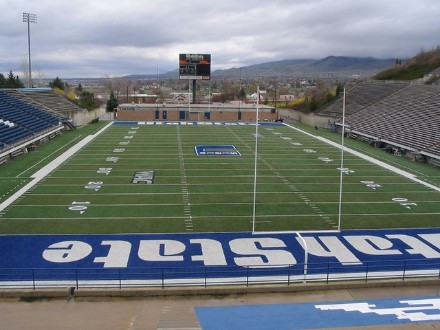 Utah State football season win total betting odds opened at over or under 7 wins but heavy action on the under forced a line change to 6.5. With slightly more betting action now on the over, it looks like bettors feel this is a 7 win year for the Aggies.
Utah State is also listed at odds of 8 to 1 to win the Mountain West which would place them as the 4th best in the MWC and 2nd behind Boise St in their division, according to the odds, heading into 2019.
Utah State smashed all expectations last year, returning to full relevance en route to an 11-2 record after winning six games in 2017 and just three in 2016.
Gary Andersen Back as Head Coach
Because of that, Matt Wells moved on to Texas Tech and Gary Andersen was brought back after struggling to revive Oregon State. Andersen took the Aggies to 11 wins in 2012, but coaches tend to struggle in their second stints at the same school.
That could be the main talking point if this team returns to the middle of the MWC, which is possible due to the turnover.
Andersen brought in former Western Kentucky head coach Mike Sanford to lead the offense, which doesn't return much outside of quarterback. It'll be tough for Jordan Love to repeat his 39 touchdowns (seven rushing) and six interceptions on 8.6 yards per attempt.
That's because he loses his top four targets and the line returns just one starter. Jordan Nathan (28 receptions) is set for a bigger role in the slot, while Savon Scarver and Utah transfer Siaosi Mariner look to fill jobs on the outside, but nothing is a given.
The line took a major blow with numerous freshmen in the two-deep and that'll likely bring some issues early in the season.
Gerold Bright (888 yards, 10 TDs) takes over as the top running back, but it's a wonder if he can average 6.3 yards per carry again behind this line.
Defense Should Keep Aggies in the Mix
The defense could still keep this team as one of the best in the MWC with new coordinator Justin Ena (former Utah LBs coach). The Aggies were solid against the run and pass and allowed 23.0 points per game last year, and return guys at every level.
All-American linebacker David Woodward (134 tackles) is the name to know, but end Tipa Galeai (10.5 sacks) leads a line built around experienced upperclassmen.
The secondary should also be stout with safety Shaq Bond back from injury to go with nickel DJ Williams and corner Ja'Marcus Ingram. They lost a couple regulars on the back end, but this unit should be fine in the MWC.
Tough Schedule, Talent Loss Keep Win Total Down
Andersen won't reach double-digit wins in his first season back in charge, but the Aggies should still challenge for the Mountain division. The problem is the schedule which features trips to SDSU and FSU, the likely best teams in the West division.
If they lose those, it's almost a must that they beat Boise later in the season at home. That also doesn't include the two non-conference trips to Wake Forest and LSU with at least one more loss likely if not two.
The schedule is unkind for USU, especially with so little talent returning on the offensive side. Love can be electric at quarterback, but winning more than eight games would be a surprise for the Aggies, even if the defense gets to another level behind Woodward.
Even then, eight wins are probably too much for a quarterback that lost his weapons and most of his offensive line.
Utah State at Wake Forest Week 1 Pick
2019 Utah State Aggies Football Schedule
Aug. 30 at Wake Forest (opened +3)
Sept. 7 vs. Stony Brook
Sept. 21 at San Diego State
Sept. 28 vs. Colorado State
Oct. 5 at LSU
Oct. 19 vs. Nevada
Oct. 26 at For Force
Nov. 2 vs. BYU
Nov. 9 at Fresno State
Nov. 16 vs. Wyoming
Nov. 23 vs. Boise State
Nov. 30 at New Mexico