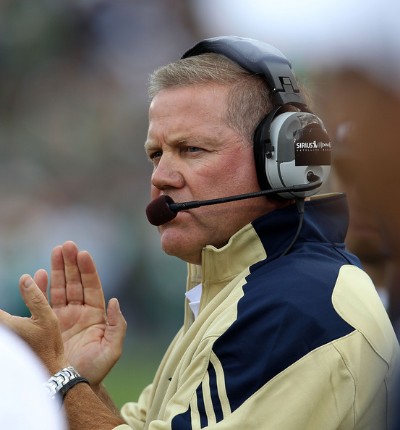 Notre Dame travels to Louisville in week 1 college football betting action as -20.5 point favorites with a total of 57.5. The Irish generally draw the majority of the betting action in their games and that's the case here with around 65% of the action going their way.
The odds don't show it, but Notre Dame could be in one of the trickier situations of the first week of college football. The Fighting Irish are a decent favorite, but have to travel to a Louisville team who's hungry to not repeat last year's two-win record. 
This game could be closer than some think, but Notre Dame should be ready. That's because quarterback Ian Book has had a full offseason as the starter and should only improve on last year's 19 touchdowns and seven picks on 8.4 yards per attempt.
Ian Book Leads the Irish Offense
He took over the starting gig in the fourth game of 2018 and never looked back. Joining him in the offense is a bevy of talent from a stocked line, which only lost one starter, to top receivers Chase Claypool (50 receptions) and Chris Finke (49 rec.).
Running backs Jafar Armstrong and Tony Jones will likely split touches, though hitting 6.3 yards per carry like Dexter Williams did last season could be difficult. This offense turned the burners on once Book took over and that's the main reason they are such big favorites in the opener.
Louisville Offense Gave up 44 ppg in 2018
Louisville's defense had wretched numbers last year, allowing 484 yards and 44.1 points per game, but that was then. The hiring of Scott Satterfield, former Appalachian State head coach, brings in change and a new intensity.
The Cardinals return a decent amount of starters, though that kind of doesn't matter given how bad they were. It's hard to project how much they'll improve, but there's no question they will and Notre Dame is a good opening test.
Louisville Offense Needs More than 20 ppg
To cover, Louisville will still need to score, something it struggled to do last year, averaging less than 20 points per game. Jawon Pass is expected to remain under center, partly because Malik Cunningham was injured for early fall practices.
The reports are positive regarding Pass, who did little right last year en route to eight touchdowns and 12 interceptions. Either way, Satterfield brings a different offense to the table with a more run-heavy approach. Of course, that may not be the best method for a line that returns two starters after allowing 43 sacks last year.
Running back is also up for grabs between guys like Hassan Hall and Javian Hawkins. If Pass or whoever starts at quarterback can complete passes, the receivers are there in Dez Fitzpatrick and Seth Dawkins.
Might be Value in Cardinals Early
It doesn't help Louisville that Notre Dame's defensive strength may be getting to the quarterback with ends like Khalid Kareem and Julian Okwara. And while linebacker is fairly new, safety is stocked with Jalen Elliott and Alohi Gilman.
The Irish may step back from last year when they allowed 17.3 points per game, but they should still have the advantage in this game, mostly because of Louisville's questions on the line.
It's reasonable to take the Cardinals because it's the first game and they're at home with a new head coach. That makes sense, but Notre Dame could easily drop 40-plus points and then it'd be up to Louisville's offense to keep things competitive.
Not to beat a dead horse, but if you read our week 1 previews of other games, you'll notice a trend. We believe there can be value with big dogs like Louisville in the first half of these games (and 1st quarter).
They've devoted spring practice and pre season camps to preparing for one opponent. In this case, Notre Dame. There's talent on the squad and motivation will be sky high. It's the only game of the night. A nationally televised affair to cap off week 1 of college football. All of the above can make a team better than they actually are, even if only for a short time.
If Notre Dame ends up covering, it's likely that it will be the result of the class difference and will show over the course of 60 minutes of football. Had they played last year, we would have had the Irish winning by 30+.
Our Picks – Louisville + for the first quarter and 1st half.