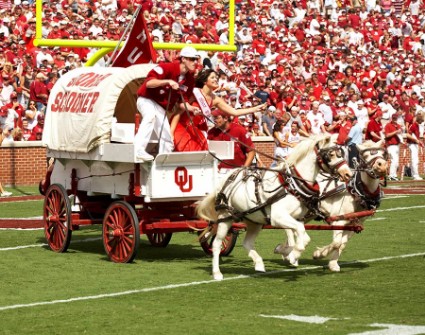 The Oklahoma Sooners will host the Houston Cougars on September 1st to get things started for both teams in the 2019 college football season. The Sooners are favored by 24.5 with a total of 80.
It's another year and another quarterback for Oklahoma, but that doesn't matter much with Lincoln Riley running the show. That's seen in the spread of this game since Houston returns its quarterback. 
Jalen Hurts Takes Over
Jalen Hurts still wasn't named starting quarterback a couple weeks before the game, but that won't change the spread. Even if one of the freshmen starts between Tanner Mordecai and Spencer Rattler, it doesn't matter. This offense will still be one of the best in the nation even with questions elsewhere. 
The line returns one starter with the majority of the expected starters being sophomores. That could lead to some problems, especially since they won the award for best offensive line in the nation last year.
If the new QB struggles to complete passes, it's still expected that Trey Sermon (947 yards) and Kennedy Brooks (1,056 yards) will find room in the rushing attack.
Plus, Hurts is plenty mobile himself and probably more lethal with his legs than with his arm. Outside of CeeDee Lamb at receiver, it's a little unknown, though tight end Grant Calcaterra is expected to have a bigger role after 26 receptions last season.
Houston is All Offense no Defense
Houston's defense was brutal last season, allowing 489 yards and 34.4 points per game, but the staff is completely new. Dana Holgorsen comes over from West Virginia and he brought along Doug Belk and Joe Cauthen (Ark. State) to lead the defense.
This is probably the worst situation to be in for new coaches and it's unlikely this first game goes well with five returning defensive starters. Houston's hope will be that Hurts throws a couple picks early to level the playing field.
Cougars Went Toe to Toe with Texas Tech
Still, the Cougars have a chance to stay competitive because D'Eriq King may be better than whoever the Sooners start at quarterback. When healthy, King is electric, finishing last year with 50 total touchdowns (36 passing) and six interceptions on 8.6 yards per attempt to go with 674 rushing yards.
Scoring has never been a problem for this team with King in the squad and that should remain the case under Holgorsen.
The line has a good base with both tackles and center returning while top wideouts Marquez Stevenson (1,019 yards, 9 TDs), Keith Corbin and Courtney Lark return. Throw in running backs Patrick Carr (868 yards) and Kyle Porter, and the options are endless for this offense.
New coordinator Alex Grinch has a big task on his hands, but he at least gets back a lot of talent with nine starters returning. That should help the Sooners in their efforts to stop King, though that's a hard thing to bet on.
Houston lost 63-49 at Texas Tech last year. If the Cougars can't keep up with Tech, then how will they handle OU? That's a reasonable question.
Too many questions need to be answered to get too serious about this one. That said, the scoreboard figures to get a workout here. In that type of game, the back door is always open.
Our Pick – Houston +24.5
Read our season betting previews for Houston and Oklahoma