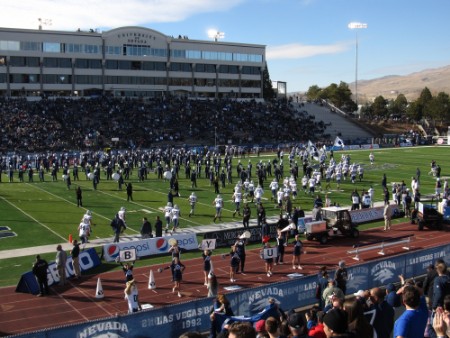 Purdue will head West to take on the Nevada Wolfpack in week 1 college football betting action. Purdue opened as -8.5 point favorites at 5 dimes and heavy one way action on the Boilermakers has moved that number to -9.5. Some 9's are still on the board as well.
Early season college football often involves teams from minor and major conferences facing each other. Such is the case here with Purdue from the Big 10 and Nevada from the Mountain West.
A Difference in Class
We often refer to class differences between teams in our write ups. There will always be a pecking order in college football when it comes to recruiting. If you're a talented player and have a chance to go play in the Big 10, SEC, PAC-12 and so on, you're going to do just that. You won't opt for the Mountain West.
Such is the case here. You really don't need to dig too deep to find out that Purdue has more talent than Nevada. That will always be the case with college football.
That's not to say the team from the major conference is always a no brainer play. There are upsets every year. Just last season, in week 2, Purdue lost to Eastern Michigan 20-19. In fact, Purdue has stumbled a few times over the years against weaker conference teams.
Nevada doesn't usually fare to well when stepping up in class though. Last year they played Vanderbilt in week 2 and lost 41-10. The year before they lost by 11 to Northwestern and then lost to Washington ST 45-7.
Purdue hosted Nevada in 2016. The final was 24-14. However, Purdue out gained Nevada 466-253 and won the first down battle 25-18. But they also turned the ball over 4 times and there lies your margin of only 10 points.
It's also worth noting that Purdue trailed at halftime 14-10. That will work as a good lead in to explain the different ways to play this game.
Consider Weaker Teams in 1st Half
You'll often read in our write ups about playing weaker teams in the 1st half and 1st quarter. Teams from weaker conferences can often hang around with major conference teams at least for a half.
By the time the 2nd half rolls around, all that adrenaline and motivation from stepping up in class has worn off and the fact that the major conference team is usually much deeper in talent kicks in.
It won't hurt to consider backing the Wolfpack in the first quarter and first half. But as far as the full game is concerned, we think Purdue is the way to go.
The Wolfpack won 8 games last year but they return very few starters from last season. Purdue is in much better shape in terms of returning talent and let's not forget that Purdue had the talent a year ago to beat Ohio State 49-20.
We'd also expect Purdue to remember losing to Eastern Michigan last season and for those players that weren't around in 2016, they'll likely be reminded of the close call they had against Nevada.
Our Pick – Purdue -9