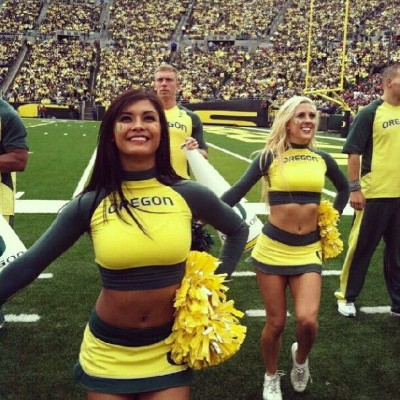 California was the last undefeated Pac-12 team. And then it lost at home to Arizona State. That's kind of how it goes in this conference with most of the seasonal talk about how getting a one-win team in the College Football Playoff is possible. That's Oregon's goal at this point and it was a huge -18 point home favorite with an over/under of 46 earlier in the week.
This spread is a bit large given that the Golden Bears are a defensive team and they already beat Washington on the road. Sure, they don't have their starting quarterback, but that's not going to keep them from playing the same way.
A lot of people will look at last year's 42-24 Oregon win and expect similar things, but that game wasn't as easy as it looked. Both teams moved the ball fairly well offensively, and the main difference was that the Ducks had four interceptions, including one returned for a touchdown in the final few minutes.
Remove those interceptions and Cal probably could've won because it still averaged 5.9 yards per carry, just as good of rate as Oregon.
But backing new quarterback Devon Modster won't be easy after he went 5-for-14 with a pick after coming in for the injured Chase Garbers last game. The UCLA transfer hasn't played much since 2017 so there's not a ton of faith in him and that's seen in the spread.
That said, this remains a run-first offense led by Christopher Brown and Marcel Dancy, who have combined for 606 rushing yards and five touchdowns. They're both averaging more than 4.2 yards per carry and while that's not elite, they can at least move the chains. 
The main issue is that Oregon's run defense may be better than a year ago, allowing just over 100 rushing yards per game. Since the Auburn loss, it's dominated its last three opponents, though none of those teams may be headed to a bowl. Either way, it's hard to completely ignore Cal's rushing totals from last year, going for 242 yards on 5.9 yards per carry.
While Cal could have enough to cover, a win isn't expected with Modster at quarterback. That's because the Ducks have a real offense behind quarterback Justin Herbert, who is completing 74.4% of his passes for 8.7 yards per attempt, 14 touchdowns and no interceptions.
While he struggled against Auburn, he hasn't had any trouble since, though it's worth noting this Cal defense has given fits to every quarterback faced, including Jacob Eason at UW. That's why the Ducks will likely also take a run-first approach behind CJ Verdell and Travis Dye.
Those two haven't had overwhelming seasons, but when needed, they should be able to run the ball freely against any Pac-12 opponent, including this one. Dye and Verdell combined for 221 yards in last year's meeting and will likely be the focal point again.
But considering how slow Cal plays and how defensive the majority of their games are, this spread just looks too high. There's no doubt the Ducks could run away with it, especially at home, but they won by 18 points last year because of four interceptions. If Modster is safe with the ball, the road team should at least have a chance to cover.
The under is 9-1 in Cal's last 10 conference games and it's 6-1 in Oregon's last seven October games. The Ducks are 5-1 ATS in their last six following a bye week.
Oregon has covered in the last five meetings between these schools played in Eugene, in addition to covering eight of the last nine overall. The under is also 8-1 in the last nine meetings in Eugene.
Our Pick – Our numbers have Oregon winning this one by 3 TD's. However, our numbers are only part of our process. We think the Cal "D' makes a game of this. Cal +18