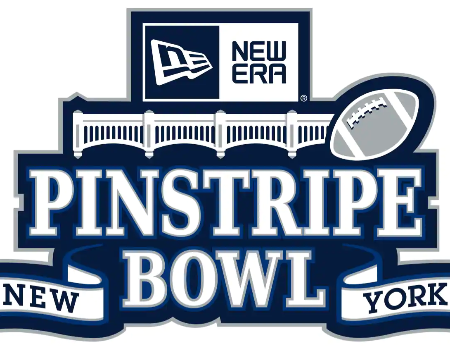 The Pinstripe Bowl features two teams with a combined 8-15-1 ATS mark, though nine of those losses were by Michigan State. The Spartans are still considered the better team despite a disappointing campaign and were -3.5 to -4 point favorites with an over/under of 50 a week before the game.
The Big Ten has won the last three Pinstripe Bowls, though Wake Forest has won its last three bowls under Dave Clawson. Those Wake wins were all high-scoring affairs, while Michigan State lost to Oregon 7-6 last year.
Of course, the Spartans have also had plenty of bowl success under Mark Dantonio, taking five of their last seven with the losses being last year and in 2015 to Alabama in the CFP. 
Then again, it's been a brutal season for the Spartans, who needed to win their last two games to be in this spot and the final win against Maryland was far from pretty.
On one end of the spectrum, they were blown out by four really good teams and their other two losses were games they probably should've won against ASU and Illinois. On the other end, well, they're just not very good.
Wake Forest didn't face the same competition in the ACC and so it finished with two more wins. It was blown out in similar fashion by Clemson, but it also lost by 19 points against an unpredictable Virginia Tech team. The Demon Deacons had a great offense, but they also gave up a ton of points (29.3 points per game), and allowed more than 400 yards per game and 7.5 yards per pass.
Michigan State maybe didn't have the best offense, but it often racked up points against bad defenses, notably the 40 against Indiana and 34 against Illinois. But while Brian Lewerke has led the team all season, there's a chance Dantonio gives a younger quarterback some reps in this matchup.
No matter, this offense will try and get an edge with running back Elijah Collins, who ran for 892 yards on 4.4 yards per carry behind a bad offensive line. Whether it's Lewerke or someone else, the receivers are there to make plays led by Cody White and possibly Darrell Stewart if healthy.
The Spartans weren't elite defensively, but they're still a step above most, allowing 22.7 points per game with most of their issues against the pass, giving up 6.8 yards per attempt.
A lot of the preview talk is about Wake Forest's RPO-based offense, but MSU may be able to lean on its strong defensive front and remove the run-option possibility after allowing 3.3 yards per carry.
The Demon Deacons have had some success running the ball behind Cade Carney, Kenneth Walker and quarterback Jamie Newman (or Sam Hartman), but there's a chance they focus heavily on the pass. Newman (questionable with leg injury) averaged 8.1 yards per attempt for 23 touchdowns and 10 interceptions and was sacked just 18 times.
While top receiver Sage Surratt is out, Newman still has Kendall Hinton, tight end Jack Freudenthal and possibly Scotty Washington if he returns from an ankle injury.
Wake Forest is the reasonable pick because it has the better offense, but it was all over the place in terms of consistency this season. Michigan State had its issues, but if Lewerke or whoever is at quarterback can score against a poor defense, that's a major edge given the advantage with its defense.
Michigan State has failed to cover its last seven against a team with a winning record, while Wake Forest is 5-1 ATS in its last six bowl games. The under is 6-1 in Wake's last seven overall as an underdog.
Our Pick – Michigan State was loaded with returning starters this year and had high hopes. They started the year 4-1, topping 28+ points those 4 wins before the train was derailed.
The Spartans proceeded to drop 5 straight games and in 4 of those games they didn't score more than 10 points.
As a result, you'll read a lot about Michigan State's inept offense and how they can't be trusted to extend a margin. But what many will likely fail to mention is the absolute brutal 5 game stretch the Spartans had.
Consider this…….Ohio State, Wisconsin, Penn State, Illinois and Michigan. Throw out Illinois. The remaining 4 are among the very best defensive units in the land. That has to be the most brutal 5 game stretch of any team in the nation.
The fact that Michigan State wasn't competitive in 4 of those games point to the obvious. They aren't "elite". But it masks the fact that they are still a pretty good football team with a solid "D" of their own.
If you remove Ohio State, Wisky, Penn State and Michigan from their dance card, in the remaining games, the Spartans went 6-2 and outscored their opponents 30-16. Not too shabby and that schedule strength of those 8 games is just a couple of points below Wake Forest's season rating.
The Spartans are going to score points in this game and will likely approach or surpass that 30 point average they achieved in the reasonable part of their schedule.
So, the question we have to answer is, will Wake Forest be able to score 30+ on the solid Spartan stop unit?
Two games give us hope in that 8 game "reasonable" stretch of Michigan State games where they held opponents to 16 ppg and that would be Indiana and Illinois who scored 31 and 37 respectively.
The Wake Forest offense was as good or better than both of those teams, so yes, 30+ is possible in Yankee Stadium for the Demon Deacons.
Bottom Line – The motivational edge would have to favor Wake Forest here. The Spartans certainly had higher expectations and here they are, barely qualifying for a minor bowl, playing a team they are expected to beat and playing up North where the temps won't break 45 degrees. Hardly a reward for a job well done.
So we'll grab the +4 here with Wake Forest but we're also going to give the total in this one a look.
Remember, factored into the current posted total, are scoring averages attained by Michigan State against the likes of Ohio State and Wisconsin. When you remove those teams, you can see a clear path to 30+ for the Spartans.
Likewise, for Wake Forest, if we look at the two games Michigan State played against Illinois and Indiana, teams comparable to Wake Forest, a total of 71 points were scored in those games.
So, two plays for this game.
Wake Forest/Michigan State OVER 50
Wake Forest +4