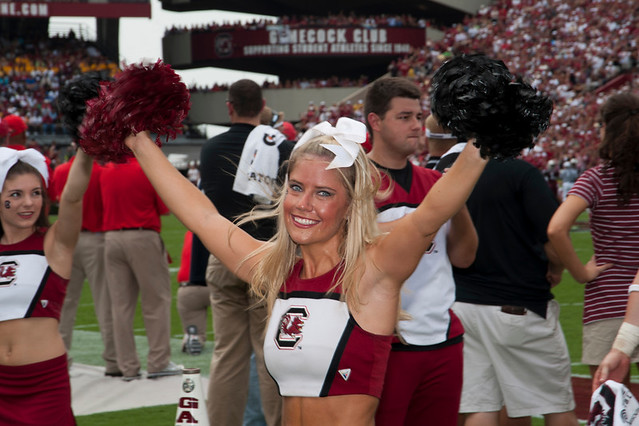 After a respectable year, the South Carolina Gamecocks are still longshots with odds of 100 to 1 to win football's SEC in 2019. Those odds are currently available at betonline.ag. 
South Carolina took a step back in Will Muschamp's third season in charge, finishing at 7-6 with a disappointing loss to Virginia in the Belk Bowl.
The Gamecocks won every game they were supposed to, but didn't pull any upsets and that left fans wanting more.
Bentley Returns to Lead Offense
There's a good reason to expect improvement with another season of quarterback Jake Bentley, as well as an improved defense.
Bentley is set to run the show again after posting 27 touchdowns and 14 picks from 61.9% completion and 8.2 yards per attempt. He improved in most categories in his third season as a starter and more improvement could push this offense into relevance after averaging 30.1 points per game.
The question is if he can post better numbers without top wide receiver Deebo Samuel. Bryan Edwards (846 yards, 7 TDs) and Shi Smith (673 yards) have to take up bigger roles, while others like OrTre Smith and Josh Vann will see the field more.
The hope is that the ground game goes to another level between Rico Dowdle (654 yards), Mon Denson and A.J. Turner.
The line returns every relevant piece and was pretty much set at four positions most of spring so that continuation could boost the offense, as well.
Defense Has to do Better Than 27.2 ppg
The big thing for the Gamecocks will be to improve on the other end after allowing 27.2 points and 425 yards per game. They often struggled against top competition, but they have the tools to improve this year.
The line could be the best unit of the defense led by seniors Javon Kinlaw and Keir Thomas, but also fresh blood in Rick Sandidge and others. It'd be disappointing if they gave up close to 200 rushing yards per game again.
D.J. Wonnum returns from injury at end, while T.J. Brunson leads the linebackers with a mix of guys that all have experience.
Safety is a little unclear, but they should be held up by the cornerback duo of Jaycee Horn and Israel Mukuamu, as well as running back A.J. Turner, who plays both sides of the ball.
9 Wins Possible if Things Go Perfectly (doubtful)
Improving on seven wins is key for South Carolina and that starts with the in-state rivalry against UNC (opened -7.5) in a game that should be a win. It doesn't help that the Gamecocks play Appalachian State later in the season, so their non-conference slate is less than desirable.
Throw in games against Alabama, Georgia and Clemson and the room for error is slim. They'll need to win two of the home games against Kentucky, Florida or Vanderbilt, while also winning one or two at Missouri, Tennessee or A&M.
There are some really tough games on the schedule, but outside of the big three, the other nine are all winnable, especially if you consider the experience Bentley has at quarterback.
If the defense takes another step, it should help in winning games on the road against Missouri and Tennessee.
That said, this looks like another seven-win campaign unless the Gamecocks can pull a bigger upset against Florida or A&M.  
Big Game on Sept 14th vs. the Tide. Here's Our Alabama Betting Preview
2019 South Carolina Gamecocks Football Schedule
Aug. 31 vs. North Carolina (Bank of America Stadium, Charlotte)
Sept. 7 vs. Charleston Southern
Sept. 14 vs. Alabama
Sept. 21 at Missouri
Sept. 28 vs. Kentucky
Oct. 12 at Georgia
Oct. 19 vs. Florida
Oct. 26 at Tennessee
Nov. 2 vs. Vanderbilt
Nov. 9 vs. Appalachian State
Nov. 16 at Texas A&M
Nov. 30 vs. Clemson