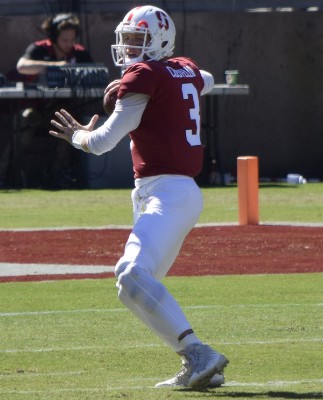 USC will host Stanford in this week 2 college football PAC-12 match up as -2.5 point favorites with a total of 45.5 at 5 dimes sportsbook. The has been lightly bet as of this early week writing, due to injuries you'll read about below. That said, Stanfoes has seen the majority of the early action.
There's a bit of a dour note going into the showdown between Stanford and USC, as both starting quarterbacks could be missing. JT Daniels is done for the season, while K.J. Costello is questionable after leaving the opener with a head injury.
Kedon Slovis – Welcome to the Big Time!
In place of Daniels, the Trojans seemed to have a solid backup in three-star true freshman Kedon Slovis, who wasn't amazing in the second half against Fresno State, but he was respectable. If he can just run the offense and not make mistakes, this will still be a good team.
The Trojans will probably try and run Vavae Malepeai and Stephen Carr as much as possible and that mostly worked against a solid Fresno State squad. Of course, the worry is that Stanford's defense is too much once again after it suffocated Daniels and company in last year's 17-3 Cardinal win.
Daniels threw a couple picks and USC could never get its ground game going. Slovis may not be nervous, but he's still going against an elite defense and can't turn the ball over. In what will likely be another low-scoring game, similar to last year, turnovers could decide the result.
Cardinal Need Costello
Of course, if Costello doesn't play, the Cardinal may have a bigger worry because Costello is probably a bigger part of the offense. He's one of the top projected quarterbacks to be drafted and there's little known about his replacement, Davis Mills, who had some issues against Northwestern, missing open players and fumbling the ball a couple times.
If Costello plays, it's possible Stanford will get the majority of money because you at least know what you're getting at quarterback. If he doesn't, the over/under will likely dip with a heavy focus on running the ball for both teams.
Rushing Game Crucial
While Mills is a questionable quarterback, Stanford may be better set up to win a rushing battle. The Cardinal don't have the best offensive line in front of Cameron Scarlett, but they did enough in last year's matchup for Bryce Love. It's also worth noting Fresno had decent success running the ball, going for more than 200 rushing yards in the loss.
If the Cardinal can get their ground game going, that may be the difference because their rush defense was solid, limiting Northwestern to 93 yards. Neither one of these teams looked great in the opener, with or without their starting quarterbacks, so another low-scoring close game wouldn't be surprising with most of the money likely waiting to see what happens with Costello.
The Cardinal are 5-1 ATS in the last five meetings, but the favorite is 4-1 ATS in the last five. The over is also 4-1 in the last five games played at USC.
Our Pick – Obviously, the QB situation throws a money wrench into this one. THis is being written on Monday, and we simply don't know the status of Costello.
However, the Cardinal may very well have the edge either way. More of an edge with Costello, but even without, their ground game could take over.
Stanford +2.5