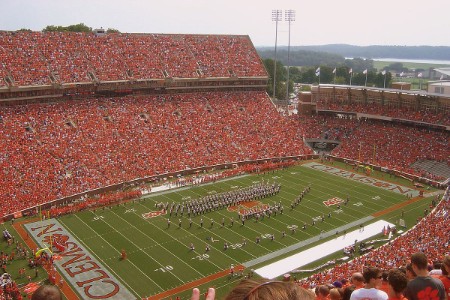 Clemson will host Texas A&M in week two college football betting action with the tigers opening as a 17.5 point favorite to go along with a total of 61 at 5 dimes sportsbook. Early betting action has favored Texas A&M.
Things went about as expected for both Clemson and Texas A&M in their opening games. The Tigers handled new-look Georgia Tech, while the Aggies dispatched a much inferior Texas State.
Each team should get more of a challenge in this one and A&M will be looking for an outright upset after losing 28-26 in this spot a year ago. 
Both Teams Will be Tested
There aren't a ton of ways to beat Clemson these days unless you can bring it on both sides of the ball. Trevor Lawrence wasn't that great in the opener, throwing a couple picks, but the Tigers still scored 52 points.
They still have a great ground attack led by speedster Travis Etienne and like last week, sometimes that's enough. Things could be a little different against the Aggies because if Lawrence throws a couple picks again, it's likely Etienne and company will find a bit more resistance.
Then again, it'd be surprising to see Lawrence, a Heisman favorite, to throw a couple more picks given what he did last season. This offense will still get its points so it'll be up to the A&M offense to keep things competitive.
Can Mond Toss for Another 400 Yards?
Last season, Kellen Mond did more than enough, tossing for 430 yards and three touchdowns. Unfortunately, no one else did anything and the Aggies lost by two points.
The question is how good Mond can be this year with a new receiving corps. He was fine in the opener, though wasn't really challenged en route to 194 yards and three touchdowns on 27 attempts.
For A&M to have a chance, he may need to repeat the 400-yard performance. However, Clemson's rush defense wasn't dominant in the opener and with a lot of those guys gone to the NFL, that could be an area that gets exploited this season.
Will Aggies Take a Run Heavy Approach?
Georgia Tech rushed for 157 yards and A&M may take a run-heavy approach to keep Lawrence off the field. Running back Jashaun Corbin and company were great in the first game, but this is a new test. If they can get more than the 71 yards accrued in last year's matchup, that'd be a big help in making this game competitive.
The jury is still out on how good Clemson's defense can be. Georgia Tech's offense is in a complete overhaul and will be a work in progress all season so it's hard to put too much into that first game. A&M knows what it has to do and has a viable quarterback leading the way in Mond. Just like last season, it wouldn't be surprising if Clemson got a scare at some point.
This game was tight last year, but it's still hard betting against Clemson and Lawrence. There's a reasonable chance the Aggies can keep the score close with a decent defense and play making quarterback. The Aggies are 10-1 ATS in their last 11 non-conference games, while the Tigers have covered their last four overall.
Our Pick – Clemson -17 (mybookie)