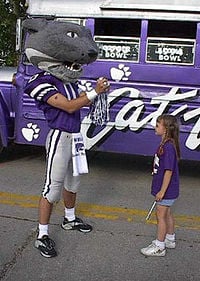 The Kansas State Wildcats (3-2, 3-2 ATS) host the Texas Christian University Horned Frogs (3-2, 2-3 ATS) on Saturday at 2:30 p.m. ET.
The point spread opened with TCU as 2-½ point favorites and has already moved to 3-½ at almost every sportsbook. The total opened at 46 and has remained unchanged. It has been one year since these teams last faced off in a game TCU won 14-13 whilst covering the spread.
Wildcats looking to recover at home
2019 got off to a fast start for the Wildcats who won their first three games against Nicholls, Bowling Green and last, but definitely not least, Mississippi State.
There was a little hype after their win over the Bulldogs, but unfortunately they were unable to fulfill it. Their next two games saw them get whipped by Oklahoma State and Baylor after that.
Kansas State probably didn't picture themselves being 0-2 in conference play to start the season. They definitely don't want to drop to 0-3. This is an important game for them. Their season could be down the tubes if they lose.
Kansas State relies on strong secondary
The Wildcats own the fifth best passing defense in the FBS. They are allowing just 155.4 yards per game through the air. However, they are much worse against the run where they give up 188.6 yards per game.
That's bad news as TCU has a very respectable running game. The outcome of this game could come down to how effective they are in stopping the run, but even if they can't do that we know they are reliable against the pass.
TCU an unknown commodity
We can safely say the Horned Frogs aren't a contender for the playoffs this year despite having been part of the top 25 early on. Their wins to this point are against Arkansas Pine-Bluff, Kansas and Purdue.
None of those teams are good, but they can only beat the teams they put out on the field with them. They gave undefeated #19 SMU (6-0) a run for their money, but came up short. So, we know they can play with a good team when they show up.
Keep an eye on TCU RB Darius Anderson
Senior RB Darius Anderson leads the way for the Horned Frogs on offense. He is averaging a whopping 7.6 yards per carry with a total of 532 yards and 6 TDs this year. He was there in a big way against SMU, a game which ended with him earning 161 yards on 19 carries for 2 TDs. He had a long run of 77 yards.
The Horned Frogs rushing offense ranks 27th best in the country. Leading the way is senior RB James Gilbert. He has 73 attempts for 415 yards and 4 TDs this year. He averages 5.7 yards per carry. Senior RB Dalton Schoen is also a pivotal part of the offense. He provided the decisive score in Kansas State's win over Mississippi State.
Our Pick – Kansas State +3.5