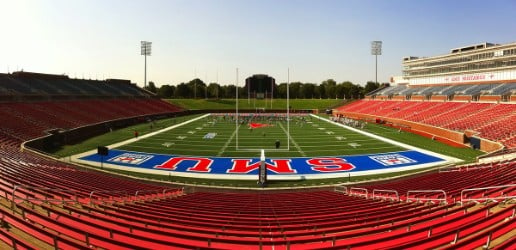 Unlike previous years when UCF ran through the AAC, the title is truly up for grabs with both Temple and SMU in contention. Temple is coming off an upset of Memphis, while SMU has yet to lose.
The oddsmakers are still giving a lot of love to the home team as the Mustangs were -7.5 point favorites with an over/under of 59.5 as of Wednesday.
The spread is this high partly because SMU's offense has been UCF-like, averaging 44.2 points per game with a road win at TCU highlighting the first half of the season.
The problem is that the Mustangs are still allowing points, which is why they didn't cover against Tulsa last week. In fact, SMU had to come back from a 21-point fourth-quarter deficit in order to beat a 2-4 Tulsa team.
Temple is built somewhat in the opposite mold with a bigger focus on defense and that's why it beat the likes of Maryland and Memphis. The Owls are allowing 19 points per game compared to 28.3 for the 'Stangs. 
Maybe SMU was looking ahead last week, but even if they were, that result is hard to swallow because Temple should have the offense to stay competitive in this game.
Quarterback Anthony Russo's numbers aren't much better than a year ago, but he's done enough and has multiple touchdowns in four of six games. But similar to last week, they'll likely try and win the possession battle via their ground game.
Running backs Re'Mahn Davis and Jager Gardner should get a heavy dosage, while backup quarterback Todd Centeio has been used in more of an option role and has added another dimension to the offense. 
Rush defense has surprisingly been SMU's strong suit, allowing 3.7 yards per carry, but it's not like that's a dominant number. Even in the win against TCU, SMU gave up 5.6 yards per carry. The path could be there for Temple to run the ball with success against this defense.
The question is what Temple can do against Shane Buechele and company. The Texas transfer has been the difference for SMU, averaging 8.5 yards per attempt to go with multiple touchdowns in all but one game.
He's clicked with top receivers Reggie Roberson and James Proche, who have combined for more than 1,000 yards and 10 of Buechele's 12 touchdowns. The ground game is a little harder to trust even though Xavier Jones has been a force with at least 108 yards in four of the last five games.
He's putting up huge numbers, but those four games came against weaker competition. It wasn't the same situation against TCU as he couldn't crack 80 yards. 
Similar to SMU's defense, Temple is better against the run, giving up just 3.3 yards per carry. But when Memphis aired it out last week, the Owls had some problems as Brady White threw for 363 yards.
Neither one of these teams has a major advantage which is why the spread feels kind of high, even if SMU's offense may be a step above with Buechele. The other part is that Temple hasn't played well on the road, barely getting past ECU and then losing big at Buffalo.
The Owls are 37-14 ATS in their last 51 conference games, while the Mustangs don't have many relevant trends. Prior to last week, SMU had covered its prior five games.
Our Pick – Temple +7.5