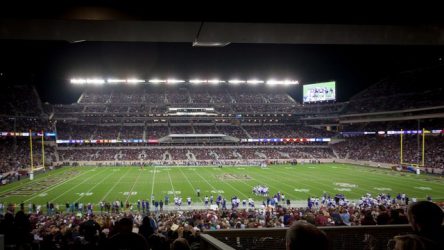 Texas A&M went 9-4 with a difficult schedule last season and will struggle to improve that record with an even harder schedule. That's not to say the Aggies won't improve because they should with another year of quarterback Kellen Mond, who steadily grew throughout 2018.
With 13 starters back overall, this team should take another step forward, but to reach more wins in Jimbo Fisher's second year, that'll likely include a major upset or two. Their opening over/under at 5Dimes Sportsbook was 7.5 wins, mostly due to schedule.
QB Mond Figures to Have Best Year Yet
If all goes well, Mond should surpass last year's 31 touchdowns (24 passing), nine picks and 57.3% completion rate. In his third year as starter, he has all of his top receivers back in Quartney Davis (585 yards, 7 TDs), Camron Buckley, Jhamon Ausbon and Kendrick Rogers.
Replacing tight end Jace Sternberger won't be easy, but freshman Baylor Cupp made his presence felt in the spring and will likely be a factor early. Mond's improvement correlates with an offensive line that returns four guys who played together last year in addition to a center who was awarded offensive MVP in the spring.
Running back Jashaun Corbin (346 yards) will likely takeover and try to replicate what Trayveon Williams (1,760 yards, 18 TDs) did last season, though backups Vernon Jackson and Cordarrian Richardson will also see time. There's a chance for better overall rushing numbers if Mond improves as expected, pushing the offense to the next level.
The Defense Struggled Against the Pass
Defense was the biggest problem at times last year, especially against the pass, allowing 262.7 passing yards per game. Another year under coordinator Mike Elko should help in addition to new starters with corners Clifford Chattman and Moses Reynolds at the top of that list.
If the secondary can improve slightly, that'll be a big boost to the defense because the line is already an elite group with Justin Madubuike and Jayden Peevy in the middle, and Bobby Brown on the edge. They lost some pieces, but the line will likely be a problem for most opponents.
The question is at linebacker and while Aaron Hansford showed up in the spring game, there are issues for a defense that lost its top six tacklers from a year ago. Texas A&M had a great recruiting class, but it's likely that talent won't be felt for another year.
Schedule Leaves No Room for Error
The Aggies could be more potent offensively in the second year of Jimbo Fisher, but that probably won't matter. This season they have to go to Clemson, as well as close November with trips to Georgia and LSU.
Throw in home games against Auburn and Alabama and there's no room for error if they want to have fewer than five losses. To win two of those games, it's going to take relevant improvement on both sides of the ball, and while possible, that's not a given.
Even then, home games against Miss. State and South Carolina later in the year aren't freebies. If Mond takes a major step and the secondary improves, the Aggies could reach eight or nine wins. However, if those things don't happen and Mond doesn't have enough against elite defenses, seven wins in the regular season is possible.
2019 Texas A&M Aggies Football Schedule
Aug. 29 vs. Texas State
Sept. 7 at Clemson
Sept. 14 vs. Lamar
Sept. 21 vs. Auburn
Sept. 28 vs. Arkansas (AT&T Stadium, Arlington)
Oct. 12 vs. Alabama
Oct. 19 at Ole Miss
Oct. 26 vs. Mississippi State
Nov. 2 vs. UTSA
Nov. 16 vs. South Carolina
Nov. 23 at Georgia
Nov. 30 at LSU