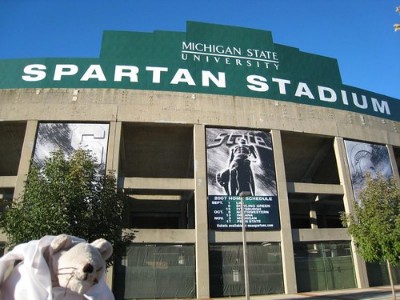 On paper, this looks like a freebie for Michigan State. They are an early -21.5 point favorite against Tulsa in this week 1 college football match up. However, it won't be easy Trusting this offense, which scored six points in three of the final four games last year.
In fact, the Spartans didn't beat anyone by more than 14 points last year with subpar home wins against Central Michigan (31-20) and Rutgers (14-10).
To win by more than 20 points, Michigan State needs its offense to return to 2017 levels when it averaged 24.5 points per game, though it's not like that's above average.
Spartans Need Offensive Improvement to Cover
Quarterback Brian Lewerke is still the starter after dealing with injuries and getting benched last year due to eight passing touchdowns and 11 interceptions. The goal will be to get Lewerke going with top wideouts Cody White and Darrell Stewart. If that doesn't work, it's up to a mediocre rushing attack to move the chains.
The Spartans return most of their line from last year, but they averaged 3.5 yards per carry as a team (sacks included) and top running back Connor Hayward had only 529 yards.
The good news is that Tulsa's run defense struggled against everyone last year. They allowed 233 rushing yards per game. The problem is that overall, the Golden Hurricane had a decent season. They allowed just under 30 points per game, which is good for a three-win team. They also return most of those playmakers. Either way, expect to see a lot of rushing from Michigan State in order to get control of the game.
Spartans Defense One of the Best
Of course, MSU's defense is better than Tulsa's after allowing 18 points per game and they return studs at every level. End Kenny Willekes and linebacker Joe Bachie are two of the best in the country while corner Josiah Scott is on his way to becoming one of the best in the Big Ten. The only reason the Spartans had a winning record last year was because of the defense.
Tulsa's offense won't be that bad as Baylor transfer Zach Smith takes over at quarterback after last year's options combined for 13 touchdowns and 10 picks. Outside of getting shutout at Arkansas last year, this team still put points on the board, maybe most notably in the early 28-21 loss to Texas.
Smith also has weapons to work with as receivers Keylon Stokes and Keenen Johnson return, as well as running backs Shamari Brooks and Corey Taylor. The question is if the line can hold up against MSU's strength on the other side. 
Handicapping the Game
Michigan State is loaded. They had to deal with some injuries on the offense last year but everyone is healthy now. Their defense is predicted to be one of the best in the nation.
Tulsa may very well have been the best 3 win team in the country. They weren't pushovers as referenced above in their 28-21 loss to Texas.
Had this game taken place last season we would have had Michigan State winning a low scoring game with no more than 45 points scored and a margin of victory no more than 17.
If you take the last 3 years and calculate the average points scored by the Michigan State offense you'd come up with 22.3 points per game. Last year's average was 18.7. They'll be better this year, but how much better?
Our Picks – We'll repeat a theme here that you'll find in a lot of our week one write ups. That is, when we like a good sized underdog, it's worth considering them for the 1st quarter and 1st half. That's especially true in week 1 as it can take time for teams to get going.
In many of these games where there is a class difference, it's the depth that eventually wins out. Not much different than a strong bench in college hoops.
Tulsa +21.5 as well as Tulsa +1st half and 1st quarter