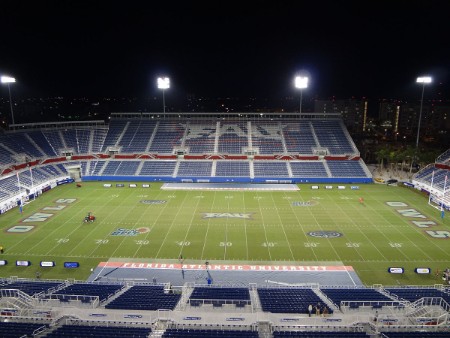 Florida Atlantic hosts Central Florida in week two college football betting action with the Knights -10 point road favorites with a total of 68 at 5 dimes sportsbook.
A couple years ago, UCF and FAU were two of the best Group of Five teams in the country. These days, UCF still holds that title, but Florida Atlantic has fallen from its lofty heights in Lane Kiffin's first season and is a slightly above average C-USA team. 
When these teams met last year, the situation was a bit different, namely that stud quarterback McKenzie Milton was healthy and went for six total touchdowns. UCF covered as 14-point favorites in a huge 56-36 win in which the offense did whatever it wanted.
UCF Offense Without McKenzie Milton
However, now there's a question of how good the offense is without Milton because beating up on FAMU doesn't really show much.
Former Notre Dame quarterback Brandon Wimbush started in the opener and was great, but there's a reason he's no longer with the Irish. He opened last year as starter and struggled to four passing touchdowns and six interceptions, which is a worry for UCF.
The good news for the Knights is that their ground game should still be dominant with Adrian Killins and Greg McCrae in tow. Those two will likely get a heavy workload after FAU gave up 237 rushing yards to Ohio State last week.
UCF may not score 56 points like last year, but it's still expected to score fairly easily against this defense, as long as Wimbush or Dillon Gabriel aren't complete busts under center.
UCF Gave up 320 on Ground Year Ago
The other question is if UCF's defense is any better after getting run over for 320 rushing yards in last year's meeting. The Knights showed up against FAMU, but again, that's a different level of competition.
The problem for the Owls is that record-breaking running back Devin Singletary is gone and his replacements, James Charles and Larry McCammon, didn't get to show much in the opener.
Quarterback Chris Robison again leads the offense, but FAU will try and lean on the ground game and while it struggled against OSU, it's hard to gauge the outlook given that one game.
Either way, FAU's offense is better than what it showed in the opened and has a lot of players back from the one that averaged more than 30 points per game last year. Robison threw three picks in last year's matchup and if he can limit interceptions, this game could be a lot closer.
Betting the Total May Be Better Choice
The Owls are at home and should put up a better fight than last year, mostly because Milton isn't playing. UCF is still a really good team, but unless the defense gets to another level, it's hard to see Wimbush providing the electricity that Milton has in the past.
If that's true, FAU could be an interesting underdog play, as long as you can overlook what happened against the Buckeyes. The under is 4-0 in UCF's last four against a team with a losing record and FAU has failed to cover in its last five September games.
The total in this game is more reflective of what these teams did last year. With UCF likley not as potent and with Ohio State only hanging 45 on FAU, the under may hold some value in this one.
Our Pick – FAU/UCF Under 68