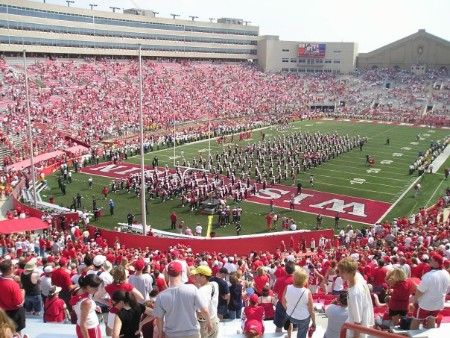 Wisconsin hosts Central Michigan as 35 point favorites in week 2 college football betting action with a total of 51.5 at 5 dimes sportsbook. The money has been flowing mostly one way on this game and that's with the Badgers.
Wisconsin maybe had one of the most impressive wins of the first week, stomping USF 49-0 despite being only a 10-point favorite. The Badgers struggled to find consistency last year, but it looks like they're here to change that and Central Michigan probably won't be ready for it. 
Badgers Rolled in Opener
Everything went to plan for Wisconsin in the opener, the question is if that continues with this game and into Big Ten play. Jonathan Taylor put his name near the top of the list for best running back in the country with four total touchdowns, 135 rushing yards and 48 receiving yards against USF.
He couldn't be stopped while quarterback Jack Coan didn't do anything wrong, averaging 7.7 yards per attempt for 201 yards and a couple touchdowns. In this matchup, there's almost no question Taylor will do whatever he wants. If the Badgers get out to another big lead, he may only get around 15 touches again with Nakia Watson getting most of the work in the second half. 
CMU Best 1 Win Team of 2018?
CMU's defense was actually decent for a one-win team last year, but it remains to be seen what kind of team Jim McElwain is working with. Beating up on Albany is nice, but it's an FCS school.
The best thing for the Chippewas is that the offense was rolling from the start with new quarterback Quinten Dormady, a former Tennessee recruit. Jonathan Ward also looked healthy and is one of the better running backs in the MAC, but playing an FBS defense will be different.
The Chips kept games low scoring last year, but it's unknown if that's the strategy again, especially with Dormady slinging the ball around, attempting 37 passes while being ahead the entire way in the first game.
If this spread came out a week ago, it probably would've been less than 30 points. Even in a bad 2018 season, Central was just a 27.5-point underdog at Michigan State (and covered). Now with a possibly relevant quarterback, this team could easily cover the 35 points.
Badger "D" Too Much for Chips?
The other side to that equation is that Wisconsin's defense completely dismantled what was thought to be one of the better offenses in the AAC. Blake Barnett threw two picks and averaged 3.6 yards per attempt while the running game had 23 carries for 26 yards (sacks included).
That's a brutal number for a decent offense. If you don't want to put too much into Wisconsin's opening win, CMU is the play, but winning by 40 points wouldn't be surprising given how the Badgers looked in the opener.
The over has hit in CMU's last five road games against a team with a winning home record and the Badgers have failed to cover in their last four following an ATS win.
Our Prediction
Central Michigan won one game a year ago. Yet they hung around in every game. If you gave the Chips 35 points in every game, they'd have covered all but one.
Aside from Michigan State, they also hung around with a pretty good Kentucky team, losing by 15, 35-20.
As a result of last weeks Wisky blowout, we're getting some additional line value here with the dog. We'll go out on a small limb and say the Chips cover this big spot.
Our Pick – Central Michigan +35