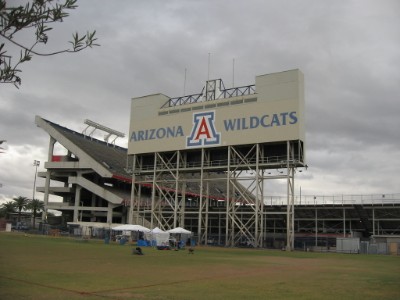 UCLA fans have been waiting a long time, but finally the Chip Kelly high flying offense arrived last week in a wild 67-63 game, where they came back to win after being down 32 points to Washington State.
They scored an incredible 50 second half points, including a 15 yard touchdown pass with 1:37 left in the 4th to take the lead. Dorian Thompson-Robinson had 500 yards passing and 5 TD's, and he needed every bit of it because Washington State's QB threw for a record 9 touchdowns.
It was just an incredible display of offense all around. Arizona is coming off two straight wins over Northern Arizona and Texas Tech. The Wildcats trailed by 1 going into the 4th last week before running Gary Brightwell scored on two separate 1 yard runs. 
Arizona is led by senior Khalil Tate, who many had on their pre-season Heisman watch lists. He is the true definition of a duel threat QB, as he has 238 rushing yards to go with 684 passing yards.
Tate can always extend plays with his feet, but he has turnover issues and tends to force balls into coverage, already with 4 interceptions on the year. While UCLA is led by sophomore Thompson-Robinson who started off the season shaky against Cincy, but has progressed each week. 
Both teams have good WR corps; UCLA's top guy thus far is Demetric Felton who has 20 catches for 321 yards and 3 TD's, with 150 yards and 2 TD's coming last week. Arizona's Tayvian Cunningham has been steady and consistent all year, with 12 catches and 158 yards and 2 TD's. Both of these guys are under 5'10, which is unusual in this day and age of monster WR's who look more like defensive ends.
Arizona begins PAC-12 play this week, and as I look ahead to their remaining schedule, this might be a must win if they want to have a chance at a bowl game, as they have an extremely tough schedule at the end of the year.
UCLA might not have bowl aspirations this year, but with rival USC in a down year they need every win they can get to build recruiting momentum into the off season.
Both of these teams have one thing in common, they have a bad defense. UCLA is giving up 39.5 while Arizona is giving up slightly less at 33.7. The over/under for this game is set at 72, but I imagine it goes higher before kickoff.
UCLA has dominated this matchup lately, winning 6 of the last 7. The spread comes in at Arizona as 6.5 point home favorites and I think that might be a little high. Tate and Arizona are just so unpredictable week in and week out that expecting them to cover a full TD might be too much to ask.  
Our Pick – UCLA +6.5