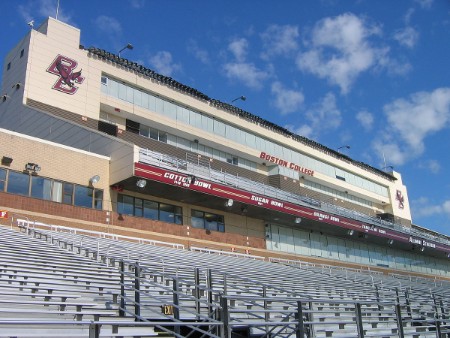 Wake Forest heads into this matchup 4-0 and the surprise team in the ACC as they are fresh off of a 49-7 win over Elon, while BC comes in at 3-1 and was able to bounce back last week against Rutgers after their tough loss week 3 against Kansas.
These two teams seem pretty evenly matched on paper, both averaging over 30 points a game on offense, but the style of which they score is drastically different.
Wake Forest, led by junior QB Jamie Newman, is ranked 20th in the nation in passing yards per game. He has over 1200 yards passing and 12 TD's, while BC's QB Anthony Brown has a respectable 792 yards passing and 6 TD's.
Boston College is much more of a run first team, as they are currently 29th in the country with an average of 219 yards on the ground, led by junior AJ Dillon with 468 yards and 6 TD's.
One of the real stars to come out of the high flying passing game by Wake this season is sophomore WR Sage Surratt, who has 30 catches and 484 yards this season to go along with his 5 touchdowns.
He really shined in week 3 against North Carolina, where he had 9 catches and 169 yards with 1 TD that put Wake up 21-0 in the second quarter as they held on to win 24-18. 
Last week Boston College RB AJ Dillon was the star in their win over Rutgers, their first road win over a Big Ten team since 2003. They relied on him as he had 32 carries and 150 yards and 2 TD's. The run first mentality has been Head Coach Addazio's hard nose approach since he began in 2013. 
Wake is currently on a 6 game winning streak stretching back into last season and the team is riding high after the blowout win over Elon, which showcased Newman and the passing game. He had 351 yards and 5 touchdowns, and featured 2 wide receivers going over 100 yards with Surratt and Washington.
Wake is currently 6.5 point favorites on the road this weekend; they are 4-1-1 in their last 6 games against the spread. Last year BC won a high scoring game 41-34, just barely covering the 6.5 point spread. I think this will be a close battle, with BC finding a way to hold on late in a classic Coach Addazio way. 
Our Pick – Wake Forest -6.5 and UNDER 69