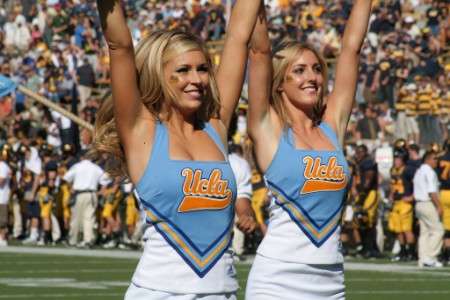 UCLA hosts San Diego State in week two college football betting action with the Bruins favored by -7.5 at 5 dimes sportsbook. The total is 45.5.
UCLA showed signs of life late last year, but those signs were missing in the opening loss to Cincinnati. The Bruins could do little right offensively as they put together 14 points in a 10-point loss.
Now at home, they're hoping to rebound against another team who showed no offense in the opener in San Diego State. 
Neither Offense Impressed in Openers
Given the opening offensive performances, the over/under is probably too high. UCLA quarterback Dorian Thompson-Robinson was miserable at best against Cincy, completing 8-of-26 passes for 156 yards, two touchdowns and two interceptions. He had a 75-yard completion to his running back and that was about it for the positives.
It didn't help that the Bruins found little room on the ground as Thompson had 10 carries for minus-20 yards despite being sacked just two times. It was a similar case for running back Demetric Felton, who had 71 yards on 23 carries. 
It's worth monitoring injuries as UCLA's top running back and wide receiver missed the opener (Joshua Kelley, Theo Howard) and could give an immediate boost to the offense. Then again, how big of a boost will that be? Dorian-Thompson isn't going to become an elite quarterback because his top receiver is back, though that would help. 
Aztec Defense Solid
Unfortunately for UCLA, San Diego State is also built upon defense and that's the only thing it did right in its first game, beating Weber State 6-0. Some of those numbers are lopsided because of opponent, but the Aztecs gave up 21.8 points per game last year and held Arizona State to 21 points in a 28-21 win. That's a path for an upset and cover at a minimum for SDSU, though its offense may have bigger issues.
The Aztecs could do nothing offensively against Weber State and it's a wonder if they're worse than last year when they averaged 20.6 points per game.
Quarterback Ryan Agnew showed now signs of improvement, averaging 3.6 yards per attempt on 30 passes. Even worse is that running back Juwan Washington only managed 55 yards on 22 carries.
The running game has often been the only positive for this offense, but if that's not working, there could be trouble ahead for the Aztecs. 
If neither team improves from the opener, this could easily go under 40 points. UCLA will get more money because it's UCLA, but there weren't a ton of positive signs from either team in the opener and that usually leads to a close, competitive game, albeit also an ugly one.
The Aztecs have failed to cover their last four games following a win, while the Bruins are 1-6 ATS in their last seven September games.
Our Pick – UCLA -7.5