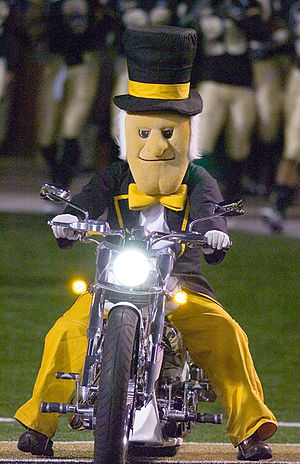 Wake Forest is favored over Utah State in week 1 NCAAF betting action which has the Mountain West Conference taking on the ACC.
Utah State is fresh off a fantastic season which saw them go 11-2 overall which was capped off with a 52-13 win over North Texas in the New Mexico Bowl.
Not only did Utah State have a fantastic record straight up, they also rewarded their backers against the spread. They were a very profitable pick last season going 10-3 ATS. Note however, they were just 3-3 against the spread on the road.
With that type of success, the head coach typically becomes a hot commodity. That's what transpired at Utah State as coach Matt Wells is now the man in charge at Texas Tech.
The Aggies hired Gary Anderson as his replacement who previously coached the Aggies from 2009-2012.
Wake Forest had the type of season they have grown accustomed to the last few years. They were 7-6 overall last season and won a minor Bowl game over Memphis, 37-34.
Against the spread the Demon Deacons were 5-8. When playing at home, they destroyed those willing to back them as they went 1-6 against the spread!
High Powered Aggie Offense Loses 9 Starters
A year ago, Utah State had the most efficient offense in the nation. They score 1 point for every 10.7 yards gained. Unfortunately, the offense returns just 2 starters for 2019. On defense, they return 7. Wake Forest returns 7 on offense and 5 on defense.
Week 1 college football lines are heavily influenced by what happened the previous year. The fact that Utah State had such a great season both straight up and against the spread combined with the ho hum season Wake Forest had could provide some added value with the Demon Decons.
Utah State plays an incredibly easy schedule. That doesn't mean they can't compete with the big boys. But it's safe to say that they would not have been 11-2 had they played in the ACC last year.
Likewise, if Wake Forest had the benefit of playing in the Mountain West, they no doubt would have had a better record than 7-6.
Value Lies With Wake Forest
Often times bettors get too caught up in win loss records and don't dig deep enough into the actual talent on the field.
These teams last met in 2017 with Wake Forest winning at home 46-10. Prior to that, they played in 2014 with Utah State winning at home 36-24.
Had this game taken place at the end of last season, our score prediction model would have had Utah State winning by 3 to 5 points.
The feeling here is that Wake Forest will be the team in a better position to have early season success. They have stability with Dave Clawson and the coaching staff and a pretty good mix of returning talent.
The Aggies have to deal with a considerable loss of talent and a coaching change. That's likely to be evident in the early going.
Our Pick – Wake Forest -3.5