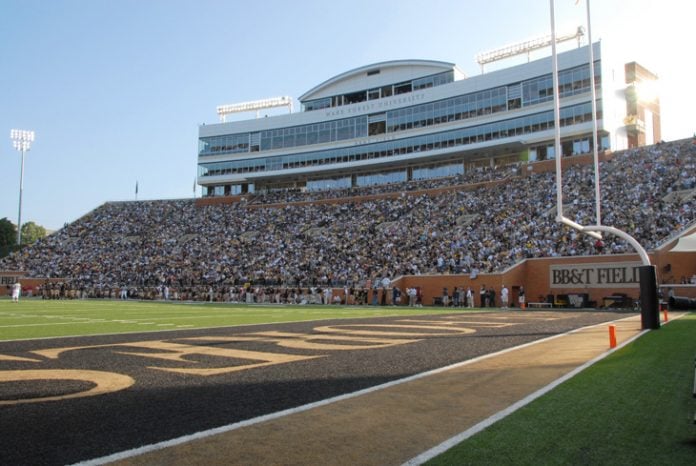 The season win total for Wake Forest football in 2019 has been set at 7 total wins by 5 dimes sportsbook. If you'd like to bet the under, you'll have to lay a price of -140 to do so. The price for over bettors is even money +100.
The rebuild is complete under Dave Clawson and that's why his contract was extended past 2026. Even with a new quarterback, Wake Forest closed 2018 with its third straight bowl win and winning season. That's an impressive feat for a team that went 3-9 in Clawson's first two years in charge. 
Note that the Demon Deacons of Wake Forest recruiting class for 2019 was rated 60th by rivals.com which places them in the middle of the pack of all college football teams.
Two QB's Battle for Top Spot
The question most fans have is at quarterback where Sam Hartman (55.3% completion, 6.8 ypa) and Jamie Newman (59.6%, 7.7 ypa) will likely compete for the job going into the fall. Newman took over for the injured Hartman last year and won three of the final four games, so he may have the slight leg up.Either way, both have a year in the offense and that should prove helpful with questions elsewhere.
In addition to both quarterbacks being able to move the ball with their legs, Cade Carney (1,005 yards, 8 TDs) returns in the backfield with backup Christian Beal-Smith. The Deacons averaged 4.4 yards per carry last year and could surpass that number with what should be a better line that features four guys who have seen significant time with left guard the only question.
That should help the running game, but someone has to take over for Greg Dortch in the receiving game. Clawson still believes receiver is loaded with Sage Surratt (581 yards, 4 TDs), Scotty Washington (243 yards) and tight end Jack Freudenthal (15 receptions, 4 TDs) the top returnees.
Even in a somewhat rebuilding year with new quarterbacks, the offense still went for 450 yards and 32.8 points per game, which is a good sign for 2019.
Defense Could Keep Season Win Total Under 7
The numbers weren't as good for Wake's defense last year, allowing 465 yards and 33.3 points per contest, but there was significant improvement shown once Lyle Hemphill was promoted to coordinator, most notably holding Duke to seven points and a potent Memphis team to 34 in the bowl win.
The pass rush could be a problem again, but the return of Carlos Basham Jr. helps. Unfortunately, he's the only returning full-time starter on the line with some underclassmen set to break into the squad.
It's similar at linebacker with senior Justin Strnad the guy who will run the show, but with questions around him. Corner is set with a couple seniors in Essang Bassey and Amari Henderson, but safety is mostly new, which is difficult in a 4-2-5 scheme.
This group will have its issues, but improvement on overall numbers is expected under Hemphill.
Over Bettors Hope for Wins Over Rice + Utah St
To better last year's six regular season win total, Wake will have to win games early, and that means its first two non-conference tilts against Utah State and Rice.
USU is a difficult opener since it returns its QB from a high-powered offense. To reach seven wins, the Deacons will need to win at least three games in the ACC with those likely coming at home.
The problem is that FSU and NC State come to town, and since two of their road games are at VT and Clemson, they may need to win at either BC or Syracuse.
It'd be nice if they won all four non-conference games, but that's not easy to bet on considering they almost lost to Tulane last year.
Either that or the Demon Deacons will need an upset or two to hit seven wins. The offense should be fine, but the defense will keep people from betting the over on this team.
Wake Forest is at BC on 9/28/19 – Boston College Betting Preview
2019 Wake Forest Demon Deacons Football Schedule
Aug. 30 vs. Utah State (opened -3.5)
Sept. 7 at Rice
Sept. 13 vs. North Carolina
Sept. 21 vs. Elon
Sept. 28 at Boston College
Oct. 12 vs. Louisville
Oct. 19 vs. Florida State (opened pk)
Nov. 2 vs. NC State
Nov. 9 at Virginia Tech
Nov. 16 at Clemson (opened +24.5)
Nov. 23 vs. Duke
Nov. 30 at Syracuse