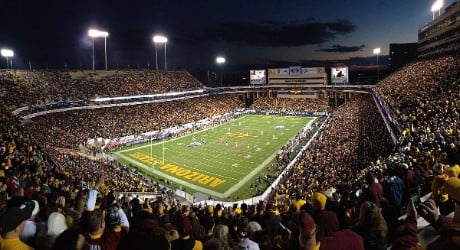 Arizona State is 3 points away from an undefeated season and currently ranked 18th in the country with two impressive wins under their belt, Michigan State and Cal.
This team is riding high into their matchup this week against Washington State. The Cougars are in the midst of a two game slide and looking to snap back into their winning ways.
Last week they lost 38-13 to Utah, where their offense had to settle for FG's in the first half before being shut out in the second half.  The high flying Mike Leach offense normally never has a problem getting into the endzone, as they have scored over 58 points three times this year.
The Sun Devils are looking to slow them down again this week, as they are led by their defense who is only allowing a stingy 14.4 points per game.
Both teams have had good success from their quarterbacks this year, WSU's Anthony Gordon the senior has put up video game numbers this year, currently has over 2,000 yards passing with 22 touchdowns. An amazing 9 touchdowns came in just one game against UCLA two weeks ago.
Arizona State is led by standout freshman QB Jayden Daniels. While his stats may not compare to Gordon's, the most important stat to many head coaches is turnovers and Daniels only has 1 interception this year, including zero in the matchup against Cal, where many scouts have said Cal's secondary has multiple future NFL players as starters.
Arizona State is a balanced team on offense, where they will lean on running back Eno Benjamin as they try to shorten this game and keep WSU's offense off of the field. Benjamin leads the team with 392 yards rushing and 6 touchdowns.
Washington State has won the last two matchups, but this one feels different. The noon kickoff with a temperature of 90 degrees in Tempe this weekend paired with Herm Edward's tough nose defense might be just enough to slow down the Cougars. 
Our Pick – Arizona State +1