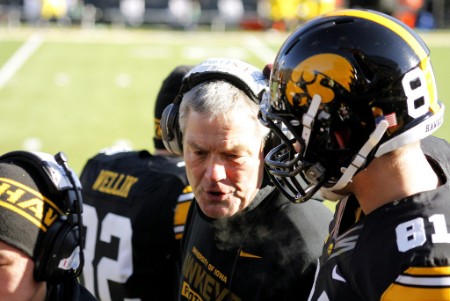 Iowa opened as 22 point favorites over Rutgers this week at betonline sportsbook and early bettors showed some interest in the Scarlet Knights, moving the number to -20.5. The total is currently 49.
Big Ten season is here and it starts with… Rutgers and Iowa. If you aren't a fan of either school, this may be a game you bet on and not watch. When these teams met in 2016, it finished 14-7 to Iowa and it's not like either team is much different from back then, at least stylistically. 
Rutgers arguably had the better opener between the two teams as it covered and Iowa didn't. That said, the Hawkeyes have never been a flashy team, but if they can beat a mediocre MAC team by 22 points, they can probably do the same against Rutgers.
Things Looking Up For Rutgers?
However, there are reasons to believe in the Scarlet Knights, namely last year's losses to Northwestern, Penn State and Michigan State by a combined 20 points. Not to say Rutgers is a good team, but it should be competitive more often than not again this season.
The brightest spot for the Knights in the first game was probably quarterback McLane Carter, who spent his first couple years at Texas Tech. While he threw three interceptions, he averaged 11 yards per attempt and had 340 yards.
Sure, it was against UMass, but those aren't numbers often reached by a Rutgers quarterback. He looked to his favorite targets early and often as Bo Melton and Raheem Blackshear combined for 15 catches and 253 yards.
Running back Isaih Pacheco was just as big of a talking point as he racked up four touchdowns. Those numbers are nice, but Iowa's defense is at a completely different level and if Carter continues his gunslinging, a few more interceptions wouldn't be surprising against this defense.
Either way, Pacheco isn't going to find the same holes to run through and Carter isn't going to have the same kind of time in the pocket.
Hawkeyes Offense Far from Explosive
The question will be what Iowa's offense can do and if it can get to a better start than the 10 points it scored in the first half against Miami Ohio.
Nate Stanley provides experience at quarterback and that led to three touchdowns in the opener, but he's working with a lot of new targets and his favorite receiver in the first game was running back Mekhi Sargent.
Of course, the Hawkeyes are a run-first team and that strategy should work against Rutgers, who allowed 5.4 yards per carry to UMass, including three runs of at least 29 yards. 
If Iowa can get out to a better start, there's a decent chance it scores 35 or 38 points again with its defense doing the rest. Rutgers may not be the complete laughing stock it once was and could eventually be a great backdoor covering team if Carter continues to sling the ball, but it's still not a team you want to put money on.
The Scarlet Knights won their first game last year and then lost their next 11, including a 55-14 beat down at Kansas. At this point, the opening win is nothing to get excited about. The Knights have covered in their last four against a team with a winning record, while the Hawkeyes are 1-3 ATS in their last four games as a favorite.
Our Pick – Rutgers +21 or better