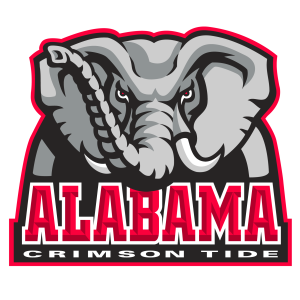 In addition to playing Alabama, Missouri is without 12 players for the opener because of COVID-19. At the end of the day it probably doesn't matter but missing players is never a good thing. The Crimson Tide is favored by -27.5 on the road at Mizzou with a total of 56.5 at Bovada Sportsbook.
Alabama finished 11-2 last year and it was considered a disappointment. The rumor is that Nick Saban is taking no prisoners this season and aiming to dominate teams en route to the Championship.
A weird offseason probably doesn't change much for Alabama, which can't be said for most teams. Even with a new quarterback, dominant lines on both sides of the ball may be enough for its first few games as other squads figure things out.
Mac Jones Gets the Start at QB for Bama
The Tide still had a quarterback battle entering this game with Mac Jones having a slight edge over freshman Bryce Young. No matter who Saban decides, it probably isn't a major deal in this game.
Running back Najee Harris has his eyes on a Heisman-like campaign as the focal point of the offense. He played a minor role the last couple years because of Tua Tagovailoa, but Alabama may focus more on the ground game this season after he went for 1,224 yards and 13 touchdowns last year.
Of course, they also have some of the best receivers in the SEC between DeVonta Smith and Jaylen Waddle.
Mizzou Defense Stout
This isn't exactly the opener new head coach Eli Drinkwitz wanted, but his defense at least returns the majority of its starters from a group that gave up less than 20 points per game. The problem is that they had a favorable schedule last year and opening against Alabama is as difficult as they come.
The goal for Drinkwitz is to get something from the offense after that was the main issue last season, averaging just over 25 points per game. While Missouri also has a quarterback battle, it's not the same kind of situation.
TCU transfer Shawn Robinson and freshman Connor Bazelak are the frontrunners, which isn't saying much. Robinson wasn't good at TCU, averaging 6.5 yards per attempt for nine touchdowns and eight interceptions two years ago.
The left side of the line will be completely new, which doesn't help against Alabama. The Tigers will try and ride running back Larry Rountree early, but it's hard to see that being enough in this matchup.
That's because Alabama's defense is annually one of the best in the country. Sure, they had issues last season, but not against mediocre teams like Missouri who have a new coach and questions at quarterback. Even in a somewhat down year because of injuries, Alabama gave up just 3.8 yards per carry in 2019.
Similar to any other season, it's rarely a good idea to bet against Alabama and the opener is no different, especially after last year's disappointing finish.
Our Pick
Missouri won 6 games in 2019. After a 5-1 start in which they scored 31+ points per game, their season went off the rails. They proceeded to lose 5 straight and their offense went into hibernation.
During that losing streak they scored 14, 7, 0, 6 and 20 points. So in comes offensive minded head coach Eliah Drinkwitz in 2020. He figures to get this offense going, but as is the case anytime a new coaching staff comes in, there will be growing pains.
The Tigers defense though, remained stout, even during that losing streak and they return 8 starters.
Tough spot facing Bama in week 1 but we'll go out on a small limb here thinking this defense can keep the scoring down, considering it's week 1 and there may be some offensive kinks to work out, even with a team like the Crimson Tide.
There's one or two +28's on the board and may be more by kickoff.
Missouri +28