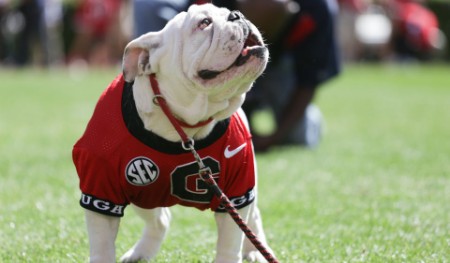 Georgia is ranked in the top 5 of the AP Poll, but a difficult schedule which features Auburn, Alabama and Florida over the next five games could change that.
In their first real test, the Bulldogs opened as -6.5 point home favorites against Auburn with an over/under of 45.5 at MyBookie and Bovada.
The biggest question for Georgia going forward is what it will do at quarterback after former walk-on Stetson Bennett replaced D'Wan Mathis in the opener and looked better, eventually leading to a 37-10 win. A quarterback problem is rarely good to have and usually doesn't lead to title-winning seasons.
Defensive Battle Again?
When these teams met last year, it was all about defense in a 21-14 win for the Bulldogs. It's expected to be fairly similar, mainly because Georgia got just 110 passing yards from Jake Fromm in that matchup, while D'Andre Swift ran for 106 yards.
Auburn couldn't do anything the first three quarters and then Bo Nix finally opened things up for 14 fourth-quarter points, though he averaged 4.9 yards per pass on 50 attempts. 
Auburn Just 3 YPC vs. Kentucky
Even with Nix still at quarterback, Auburn is almost a full touchdown underdog in this meeting. That's because Nix still has some improving to do after a mostly ho-hum opener.
Auburn won 29-13, but 14 of those points came in the fourth quarter and while Nix was fine through the air, finding both Seth Williams and Eli Stove a combined 10 times, they ran for just 3.0 yards per carry as a team.
If they couldn't run the ball against Kentucky then it's unlikely that will change against Georgia. The Tigers will likely struggle to reach 20 points with a similar performance to last season expected.
Georgia Defense Stout
Georgia's defense was its normal self in the opener despite giving up a 49-yard touchdown pass in the first quarter. After that, Arkansas did little else and managed just 5.2 yards per play pass and 2.8 yards per carry.
The bigger question for the Bulldogs is what their offense can do. Mathis couldn't do anything in the first half against what has been a terrible Arkansas defense and then Bennett came in and threw for 211 yards and two touchdowns.
Running back Zamir White went for 71 yards on 5.5 yards per carry, but the team averaged just 2.9 ypc because of sacks. Given that offensive output against Arkansas, it'll be hard to bet on Georgia as close to a seven-point favorite against Auburn.
That said, Auburn's defense lost a lot of pieces from last season, which is why Kentucky was competitive in that first game, rushing for 145 yards on 3.6 yards per carry. If Georgia can run the ball at near four or five yards per clip, then quarterback play may not matter.
Still, Auburn has the better quarterback and home-field advantage doesn't mean as much this season. The Tigers should get plenty of money with the hope being Nix can do just enough to stay competitive or get the straight-up win.
Our Pick
The jury is still out on Georgia as we're just one game in and Arkansas was the opponent. Likewise with Auburn. Can't tell much from their Samford and Kentucky games.
What we do know though, is that while Auburn lost a 21-14 decision last year, they won the statistical battle out-gaining and out first downing the Bulldogs.
Both teams lost starting talent. Georgia returned just 3 to the offense while Auburn returned 4 or 5 on each side of the ball.
But one unit that remains relatively intact is the Georgia defense, which was one of the top defenses in all of college football in 2019 (#1 in nation using yards per point to rank).
Over the last 15 years in this series, Georgia has held the upper hand. In that time, the Bulldogs have gone 12-3 against Auburn and most of those wins were by a TD or more (9 of 12 actually).
Put another way, Georgia has simply recruited the better talent. The results speak for themselves. Really no reason to expect anything different here, especially with that Georgia defense in place.
Georgia -7 or better