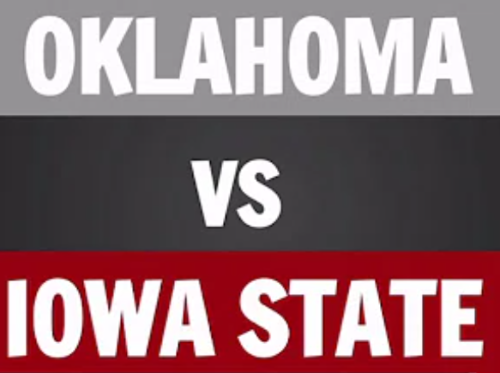 Heading into the Big 12 Championship Game, both teams should be plenty rested after not playing last weekend. Given that this matchup was set, it's almost a good thing the Oklahoma-West Virginia matchup was postponed.
Despite losing the earlier meeting back on Oct. 3, the Sooners opened as -6 point favorites with an over/under of 58 for the game at AT&T Stadium in Arlington.
Bet the game at BetAnySports with Reduced Juice!
That prior game was a long time ago and the last time Oklahoma lost after it opened the season 1-2. Since, it's figured things out and now has one of the better defenses in the conference.
Sooners Defense Stout
The Sooners still have an elite offense, but they've allowed more than 14 points just once in their last five games. That's important because in the last matchup, a 37-30 Iowa State win, Breece Hall ran for 5.0 yards per carry and Brock Purdy averaged 11.3 yards per pass.
For the season, Oklahoma's defensive numbers are stout, allowing just 22 points per game and more importantly just 3.0 yards per carry and less than 90 rushing yards per contest.
Those numbers are vital against Iowa State, which has one of the more balanced offenses in the country. Hall has been great, rushing for 1,357 yards and 17 touchdowns on 6.1 yards per carry.
Iowa State Offense Balanced
Quarterback Brock Purdy's numbers don't stand out, but he's efficient, averaging 7.7 yards per pass for 17 touchdowns and six interceptions, while rushing for 310 yards and four more touchdowns. The Cyclones used two late touchdowns to win the first meeting, but they were helped by a couple short fields.
After going down 30-23, Iowa State ran back the kick 85 yards and then scored, which was followed by a Spencer Rattler interception.
The other improvement for Oklahoma throughout the season has been the freshman quarterback, who has been a little smarter with the ball late in games. He was fine in the first game, throwing for 300 yards, but he also had that late interception.
For the season, Rattler is averaging 9.7 yards per pass for 24 touchdowns and seven interceptions, while adding another four touchdowns on the ground. He's helped by a deep receiving corps which doesn't have one guy standing out above the rest as four receivers have between 23 and 33 catches.
The problem for the offense has been a rushing attack which still doesn't have a 500-yard rusher. Rhamondre Stevenson has taken over and is averaging a solid 5.9 yards per carry, albeit on just 65 carries. 
Cyclones Give Up Just 3.1 YPC
Iowa State is in this spot because of its defense, which is allowing 3.1 yards per carry and 21.3 points per game. But while they're great, Oklahoma didn't have an overly difficult time moving the ball in that first matchup.
Throw in an added week of preparation for head coach Lincoln Riley and it'll be hard to bet against Rattler and the offense. The question will come down to just how good Oklahoma's defense is and if it can limit Hall in the ground game.
If Hall can't surpass 100 rushing yards, Iowa State will have to rely on Purdy, which isn't the easiest thing to bet on. 
The Cyclones won the first meeting, but the Sooners may be better on both sides of the ball at this point in the season and will likely get more of the money.
Our Pick
Do you believe in destiny?
Every year there's a team or two in college football that just seems to have a little bit of magic working for them.
The cyclones do have two missteps in losses to La Lafayette and Oklahoma State. However, this is a very good football team that owns wins over high powered offensvive teams like Texas and these Sooners.
They have never won a Big 12 Title. Previously, it was the Big 8. They won two Big 8 Titles back in the early 1900's. They'll likely not be in this position for years to come.
The Sooners have won the last 5 Big 12 Titles and 13 overall since the conference formed in 1996.
You get the sense that maybe that magic will work one more time and that this is Iowa State's year.
But it's not just destiny. The numbers certainly support a play. Our model sees this game as a toss up, predicting a 29-27 Sooner win, 28-28 when using data from only the last 7 games.
Try and get +6 if you can (most are gone) but what you are essentially banking on is a straight up Iowa State win, making the points a bonus.
Iowa State +6
Under 58