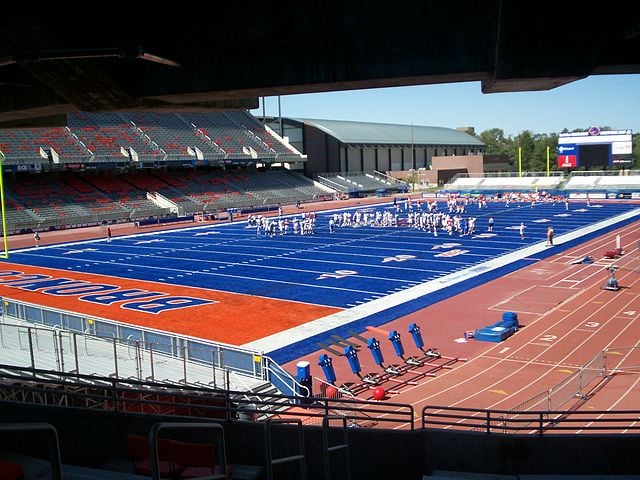 BYU is getting some recognition on a national stage, but getting to the College Football Playoff is going to take some more blowouts and a little help. The Cougars are on the edge of the AP Poll's Top 10, but there's a chance they close the season without any games against a top 25 team.
Boise State is currently ranked, but that could change in the coming months. Either way, this is likely to be BYU's hardest game of the season, opening as -2.5 point road favorites with an over/under of 59.5 AT BetAnySports.
One Team Played 7 Games – The Other 2
This is on the Boise State blue turf, but home-field advantage isn't the same this season with a limited number of fans. It's also a funny matchup because while BYU already has seven wins and just three games to go, Boise is only 2-0 and has six games left.
BYU hasn't had a ton of challenges this season, though it struggled against UTSA and needed the final 29 points of last week's game against Houston to win 43-26.
There isn't much to take away from Boise's two games, only that its offense has cruised, hitting more than 40 points in each contest. Of course, some of that is because of schedule, as Utah State and Air Force have a combined one win.
All Eyes On Zach Wilson
The headliner in this game is undoubtedly BYU quarterback Zach Wilson, who may be in the Heisman conversation when the season is done, completing 74.6% of his passes on 11.1 yards per attempt for 19 touchdowns and two picks, along with seven more rushing touchdowns.
He's the reason BYU is undefeated, with Dax Milne and Gunner Romney his favorite targets. The rushing attack has been plenty potent as well behind top running back Tyler Allgeier, who is averaging 6.5 yards per carry for 587 yards and seven touchdowns.
But while these stats are great, the Cougars haven't played an above-average defense yet. That could change in this matchup, but it's not like Boise has been dominant in its two games, most recently allowing 415 rushing yards to Air Force's triple-option.
The Broncos gave up just 20.5 points per game last season, but as seen across the country, betting on last year's numbers is often a mistake. They haven't seen a quarterback like Wilson yet, so it'll be an intriguing matchup.
On the other side of the ball, BYU's defense has been mostly dominant, allowing 281.3 yards and 13.4 points per game. Again, a lot of that is because of schedule, though they played well against better offenses like Troy and Houston.
There's a question for Boise State's quarterback, but that may not even matter in the spread. Regular starter Hank Bachmeier didn't play last week and the team didn't give a reason for his absence, but USC transfer Jack Sears torched Air Force, completing more than 12 yards per attempt on 19-for-23 passing.
While they have a solid passing attack with Khalil Shakir and CT Thomas on the receiving end, it's still an offense that wants to run the ball behind George Holani and Andrew Van Buren, as the team is averaging 5.5 yards per carry.
It's hard to get a true read on this game because of the difference in schedules, but this is set to be BYU's closest game of the season. It'll likely come down to which defense performs better because each of these offenses has the ability to put points on the board. If one defense steps up, that could be the difference in the final score.
BYU +3