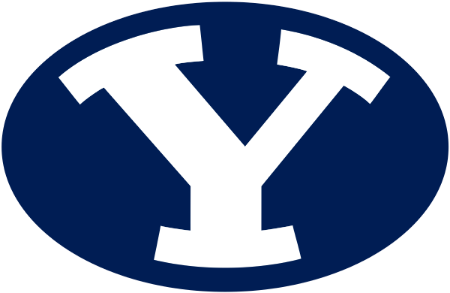 BYU had some highs in 2019 from beating USC in overtime to taking down Boise State, but it also had some lows en route to another mediocre 7-6 campaign, closing with a bowl loss to Hawai'i.
It's not expected to be much different this season as the Cougars had an early preseason over/under of 6.5 wins at 5Dimes.
To get out of mediocrity, BYU needs to find its quarterback and then hope he gets them to more than 30 points per game. The offense had its moments last season, but struggled with quarterback injuries and didn't have a running back go for over 400 yards.
Zach Wilson Likely Starting QB
Zach Wilson projects to be the top QB again, though after averaging 7.5 yards per attempt for 11 touchdowns and nine interceptions, that's far from certain. At the least, the line is stocked with experience and center James Empey is one of the best in the country.
If BYU gets more consistency from its quarterback, the offense could go to another level. Running backs Sione Finau (359 yards), Lopini Katoa (358 yards) and Devonta'e Henry-Cole should get the majority of carries.
It's less certain at receiver where tight end Matt Bushman (688 yards, 4 TDs) is the top returning option with wide out Gunner Romney (377 yards).
Defense Looks to be in Good Shape
The outlook could be even better for the defense coming off a solid season, allowing 385.1 yards and 24.4 points per game. If the studs can stay healthy, this team could be headed for one of Kalani Sitake's better campaigns in his fifth season in charge.
The line has to improve the most and the return of tackle Khyiris Tonga may be the biggest help. If the returning players around him can get to the quarterback, this defense could be in business.
That's because linebacker is mostly set with a couple seniors standing out in Isaiah Kaufusi and Kavika Fonua. Throw in the hopeful return of previously injured defensive backs Chris Wilcox and Troy Warner, and the pieces are there for this group to improve.
Tough Early Schedule
The problem for BYU is a difficult opening slate that features four formidable opponents with three of them coming on the road. It wouldn't be surprising if the Cougars opened things 0-4.
The good news is that they could be set to win the following four, though a couple games against the MWC's best are next. There are a lot of competitive games on the schedule and while none of their opponents can be considered truly elite, upsetting teams like ASU, BSU and Stanford on the road won't be easy.
If Wilson can take over the offense, the Cougars could be in good position to reach at least seven wins in the regular season because if the defense improves like expected, they'll be competitive in the majority of contests.
2020 BYU Cougars Schedule
Sept. 3 at Utah
Sept. 12 vs. Michigan State
Sept. 19 at Arizona State
Sept. 26 at Minnesota
Oct. 2 vs. Utah State
Oct. 10 vs. Missouri
Oct. 16 vs. Houston
Oct. 24 at Northern Illinois
Nov. 6 at Boise State
Nov. 14 vs. San Diego State
Nov. 21 vs. North Alabama
Nov. 28 at Stanford