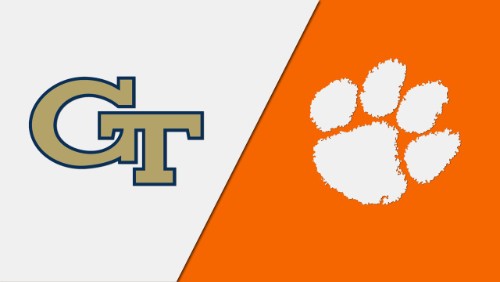 Clemson continues its romp through the ACC against a surprising, albeit inconsistent Georgia Tech team. There was a chance Miami would give Clemson a fight last week, but that didn't turn out to be the case in a 42-17 win.
Following its fourth win of the season by 18 points or more, the Tigers are -27 point favorites against the Yellow Jackets with an over/under of 63.
Tigers Walked Through Miami
Even against what was thought to be a possibly elite Miami team, Clemson did whatever it wanted last week, rushing for 258 yards while holding the Hurricanes to just 210 total yards.
As long as the Tigers have their foot on the pedal, there doesn't seem to be anyone in the ACC that can contend with them, even with Notre Dame in the conference. 
Georgia Tech has two wins against Florida State and Louisville, but it also lost by 17 points to Syracuse and 28 to UCF. There's no doubt the Yellow Jackets are better than a year ago, but despite beating Louisville 46-27, they were outgained in total yardage and needed multiple fumble recoveries to win the fourth quarter 20-0.
Getting lucky and recovering three fumbles isn't something that will happen against Clemson, who again have an elite defense after limiting D'Eriq King and company to almost nothing.
Tech Better – But May Not Matter
Yes, the Yellow Jackets are better than last season when they lost 52-14 in this matchup, but that's not saying a lot. Quarterback Jeff Sims is completing just 54.6% of his passes for five touchdowns and eight interceptions while leading the team with 251 rushing yards.
That mobility may get GT a touchdown or two, but it's unlikely the holes will be there for any of their trio of running backs between Jahmyr Gibbs, Dontae Smith and Jamious Griffin. The goal for Sims will be to limit turnovers and hope to hit around 20 points, which could result in a cover.
That's only be possible if Clemson doesn't surpass 50 points again and there's no guarantee that doesn't happen. Georgia Tech has a couple wins, but it isn't really stopping anyone defensively outside of FSU.
Tech Allowing 450 YPG and 32 PPG
Even after keeping FSU to 13 points, GT is allowing close to 450 yards and 31.5 points per game, which isn't a recipe for stopping Clemson.
The Tigers showed the Hurricanes they can do anything they want against most teams in the country. Trevor Lawrence is the future No. 1 pick, averaging 9.8 yards per attempt for 10 touchdowns and no interceptions.
He's made it a goal not to be as careless with the ball after tossing eight interceptions last season.
Top wideout Amari Rodgers has 268 yards in four games, while running back Travis Etienne does everything else, averaging 7.0 yards per carry and 14.4 yards per reception on 17 catches.
Having hit at least 37 points the first four games, Clemson should be set for at least 40 in this contest.
While there's a chance Georgia Tech gets a late cover or manages 20 points and covers, there are few reasons to bet against Clemson, which is nothing new.
The Tigers are miles ahead of everyone else in the conference and on a good day, can probably beat every team by at least 20 points. It just depends on if this game will be one of their good days following the hyped matchup against Miami.
Predicted Score: Clemson 51 Georgia Tech 10