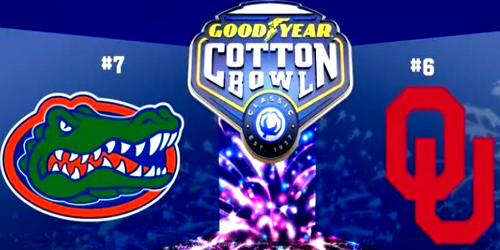 ***Note – Since this was written Florida has gone from a -3 point favorite to a +3 dog. Florida will be without several key offensive starters. Initially we liked the Sooners +3. We still like the Sooners at -3.
The Cotton Bowl isn't where Florida and Oklahoma wanted to be, but it's not like motivation should be lacking between these teams. Florida has more losses but was an early -3 point favorite with an over/under of 71.5 for the game at AT&T Stadium in Arlington.
The Gators are probably only favored in this game because they come from the SEC. While quarterback Kyle Trask has been in the Heisman hunt, they haven't been overly good as a team with their lone victory against a team with a winning record being the early 44-28 result against Georgia.
Florida Defense Lacking
They have three losses because their defense simply hasn't been good enough against any relevant team and that's the main issue in this matchup.
Florida is allowing more than 250 passing yards and close to 30 points per game. Those numbers aren't bad, but a lot of that is because of a weak schedule, as they couldn't stop LSU from scoring and Mac Jones threw for 418 yards against them.
Behind Lincoln Riley, Oklahoma has one of the most dynamic passing attacks in the country and will surely put up more points on Florida.
Freshman quarterback Spencer Rattler has steadily improved throughout the season en route to 25 touchdowns and seven interceptions on 9.5 yards per pass and a 68% completion rate.
His turnovers have reduced late in the season and that's led to seven-straight wins. The hardest part for defenses is that he spreads the ball around to everyone, as top receivers Marvin Mims and Theo Wease are at just 36 receptions each.
In addition to a mediocre pass defense, Florida is also mediocre against the run, allowing 3.9 yards per carry. Oklahoma isn't an elite rushing team, but top running back Rhamondre Stevenson is averaging 5.8 yards per carry and should keep the offense balanced in this game.
Sooners Have a Defense!
The main advantage between these teams is that Oklahoma's defense is pretty good despite starting the season slow. The Sooners are allowing just over 20 points per game and picked off Brock Purdy three times in the Big 12 title game.
Florida has been able to score on everyone, but because they can't run the ball, they haven't been able to churn the clock as much as they'd like.
Either way, Trask has been great with 43 touchdowns and five picks on 10.1 yards per pass and a 69.7% completion rate. Even without tight end Kyle Pitts, he should rack up numbers with receivers Kadarius Toney and Trevon Grimes, as well as backup tight ends Kemore Gamble and Keon Zipperer, who have already filled in for Pitts this season.
Gators Can't Run
The problem is that the Gators can't run the ball, averaging 4.0 yards per carry as a team. They couldn't do anything against Alabama, rushing for 54 yards, and the same could happen against Oklahoma, who are allowing 3.1 yards per carry for the season.
The Gators are favored, but the Sooners may have the better overall team. If you bet on the favorite, you're betting on Trask to outperform Rattler and then some. For the Sooners, their defense could make some stops, while they should have no problem scoring behind Rattler and the talent around him.
Bottom Line
This game should be a blast. Two teams on the outside looking in as far as the playoffs go, but also two teams that are likely better than at least two of the teams in the playoffs.
We're used to seeing the Oklahoma Sooners with a potent offense. We're NOT used to seeing the Sooners with a good defense. That's the case here, and that could be the difference. A key stop here or there that in years past we may not have seen, could put the Sooners over the top.
Here are the scores from our model, using 3 sets of time frame parameters.
Full game data – Oklahoma 36 Florida 34
Last 7 games only – Oklahoma 40 Florida 34
Last 4 games only  – Oklahoma 36 Florida 24
It's an across the board sweep for Oklahoma with the model and that's the way we're going to play this one.
Oklahoma +3
***Note – Since this was written Florida has gone from a -3 point favorite to a +3 dog. Florida will be without several key offensive starters. Initially we liked the Sooners +3. We still like the Sooners at -3.