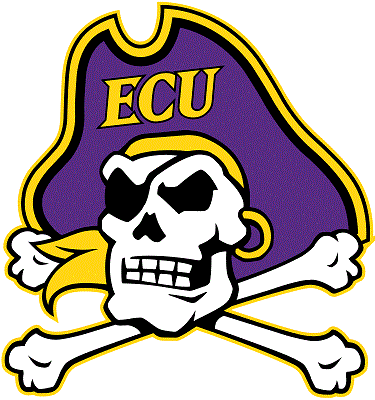 It wasn't all bad for Mike Houston in his first season at the helm of East Carolina, though a 4-8 record with one win in conference play isn't anything to get excited about.
While a high-flying offense led to almost-upsets of Cincinnati and SMU, the Pirates enter 2020 with an over/under of 3.5 wins (at 5Dimes) with +50 to 1 odds to win the AAC, tied for last in the conference.
Offense In Good Shape
The offense is the only reason ECU has a chance to secure an upset or two after averaging 430.2 yards and 26.8 points per game.
Quarterback Holton Ahlers let loose in the second half of 2019, posting 21 touchdowns and 10 interceptions on 7.7 yards per pass, as well as 359 rushing yards and six more touchdowns. That's the reason this team could hit the over with the help of some upsets. The problem is that the line is thin and while three starters return, depth is sparse.
But there's still a chance to improve for Ahlers because of a talented receiving corps which returns C.J. Johnson (908 yards, 4 TDs), Tyler Snead (759 yards, 5 TDs) and Blake Proehl (670 yards, 4 TDs) along with a couple tight ends.
The question is if the ground game can do a little more after averaging 3.8 yards per carry as a team. It's expected running backs Demetrius Mauney (446 yards) and Darius Pinnix Jr. (289 yards) will get more chances to take the ball out of Ahlers' hands.
Defense Non Existent
The situation is a bit more bleak on the defensive side after allowing 469.3 yards and 33.7 points per game. Those are decent numbers considering they gave up at least 41 points in five of the final six games. That's why Houston brought in new coordinator Blake Harrell, who served at Kennesaw State and The Citadel the last few seasons.
A lack of returning starters doesn't help, especially on the line where it's mostly a new set of guys. It's expected freshmen and juco transfers will get a lot of run this season.
Fortunately, the back end of the 4-2-5 scheme has a bit more experience, highlighted by linebackers Xavier Smith and Bruce Bivens, but more so by a stout secondary. All-America Freshman cornerback Ja'Quan McMillan is a nice tool to have with a couple returning safeties to help even more.
Long Way To Go
East Carolina is in a better spot than last season, but this team still has a long way to go, namely in the two-deep. After winning three non-conference games last year, the Pirates will need to either beat Marshall or win at Georgia State just to reach two and that's why their over/under is at 3.5 wins.
The schedule isn't too bad and there will be opportunities to beat the likes of USF, Tulsa and Tulane.
The downside to betting the over is that they lost by double-digits against the worst teams in the conference last year and were oddly more competitive against some of the better ones.
Still, an improving offense combined with some talent on the defensive back end and four wins is again possible for the Pirates.
2020 East Carolina Pirates Schedule
Aug. 29 vs. Marshall
Sept. 12 at South Carolina
Sept. 19 vs. Norfolk State
Sept. 24 vs. UCF
Oct. 3 at Georgia State
Oct. 10 at South Florida
Oct. 17 vs. Navy
Oct. 30 at Tulsa
Nov. 7 vs. Tulane
Nov. 12 at Cincinnati
Nov. 21 at Temple
Nov. 28 vs. SMU