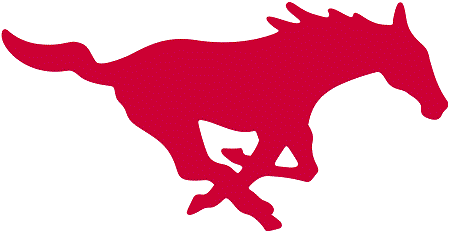 SMU surpassed expectations last season en route to a 10-3 record, but some of that had to do with a favorable schedule, which eventually led to a blowout at the hands of FAU in the Boca Raton Bowl.
Reaching 10 wins again won't be easy for head coach Sonny Dykes even with his quarterback locked down. The Mustangs had an early over/under of 7.5 wins (at 5Dimes) with +14 to 1 odds to win the AAC, tied for fourth behind the upper tier of teams in the conference.
Shane Buechele Leads Offense
Everything for SMU depends on the offense and quarterback Shane Buechele, who paved the way for a ridiculous 489.8 yards and 41.8 points per game last season. While he got help from the ground game, he finished with 3,929 yards, 34 touchdowns and 10 interceptions on 8.0 yards per pass.
While they plan on adding some quick passes to help limit turnovers, the offense should still be plenty explosive under Dykes. It helps that the line returns four starters, though the receiving talent will get more attention.
That's because Reggie Roberson (803 yards, 6 TDs) is set for a huge season after picking up a foot injury late last year.
Rashee Rice (403 yards) is also expected to step into a bigger role, but tight end Kylen Granson (721 yards, 9 TDs) really came through late last season. The question is who takes over at running back with sophomore TJ McDaniel (236 yards) the expected starter after serving as the third option in 2019.
Big Questions on Defense
Either way, the offense will need to churn out points because the defense still has some questions after allowing 438.7 yards and 31.8 points per contest.
Sure, they bring in some transfers and return six starters, but getting massive improvement from this group is a stretch after a limited offseason.
The biggest questions come in the middle up front, as Gary Wiley and Turner Coxe should be stable pieces on the ends. Stanford transfer Mike Williams could help at tackle along with the return of linebackers Richard McBryde (99 tackles) and Richard Moore (injured).
The secondary also has decent talent in corner Brandon Stephens and safety Chevin Calloway. Of course, a lot of these guys were on the team last season when they gave up 54 points to Memphis and 52 to FAU. 
Chance for 4-0 Start
If some transfers can come in and help off the bat, there's a chance SMU gets off to another 4-0 start, assuming it can take down TCU again. The conference schedule is also favorable with Memphis, Cincy, Navy and Houston all coming to SMU.
The downside is that attendance will likely be limited so home-field advantage may not be the same as prior campaigns.
Either way, they don't have to play UCF. If the defense can add a touch more consistency and Buechele continues to do his thing for the offense, the Mustangs have a great chance to contend for eight or nine wins and compete for the AAC title.
Sure, the offense could get worse and the defense may not improve, but they could still manage seven wins in that scenario.
2020 SMU Tigers Schedule
Sept. 5 at Texas State
Sept. 12 vs. Stephen F. Austin
Sept. 19 at North Texas
Sept. 26 vs. TCU
Oct. 1 vs. Memphis (early preseason line SMU +4.5)
Oct. 17 at Tulane
Oct. 24 vs. Cincinnati
Oct. 31 vs. Navy
Nov. 5 at Temple
Nov. 14 at Tulsa
Nov. 21 vs. Houston
Nov. 28 at East Carolina