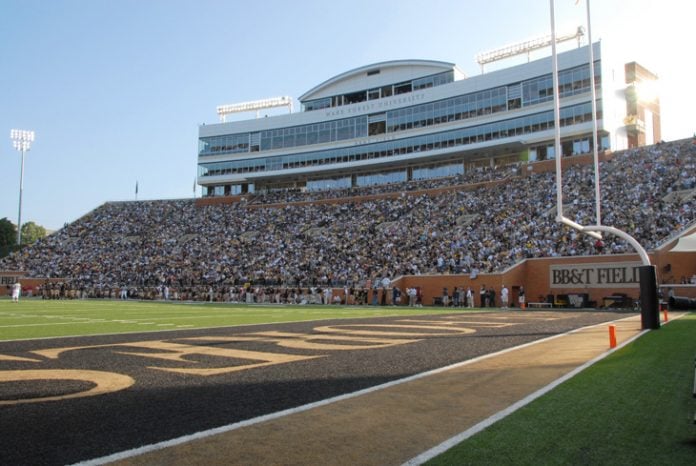 Wake Forest is coming off one of its best seasons ever, but things aren't exactly looking up for the team. After going 8-5 last year with wins over UNC and FSU, the Demon Deacons had an early preseason over/under of 6.5 wins.
Despite being above the lower level in the ACC, they aren't close to the upper tier and have +400 to 1 odds to win the National Championship at 5 dimes.
New QB – Sam Hartman
Some of that is because Wake Forest is turning to a different quarterback after Jamie Newman transferred to Georgia.
While Sam Hartman displayed flashes as a freshman in 2018 before injury, his numbers didn't reach the level of Newman's last season.
Hartman could turn out to be better than Newman, but he also has to work with a new receiving corps outside of Sage Surratt (1,001 yards, 11 TDs), who is back from a shoulder injury. The hope is that Donavon Greene and Jaquarii Roberson ease into the offense despite combining for just 19 receptions last year. 
With Cade Carney gone from the backfield, the Deacons will likely lean on a trio of Kenneth Walker, Christian-Beal Smith and Kendrell Flowers.
If the line doesn't drop off after losing a couple guys, the offense may not be as potent as last year's 464 yards and 31.8 points per game, but they should be solid, assuming things work with Hartman.
Defense Gave Up 400+ Yards and 32 PPG
The defense doesn't lose as much talent and is looking to improve from a mostly mediocre campaign after allowing 409.8 yards and 29.3 points per game. Outside of losing two studs at cornerback, things are mostly set for Wake on the defensive side.
Safety Kyle Hamilton and linebacker Jeremiah Owusu-Koramoah lead the team with a fairly deep line in front. Throw in players returning from injury like Luke Masteron, Nasir Greer and D.J. Taylor, and improvement is possible.
The hope for them is that they don't completely fall apart in certain matchups like when they gave up 62 points to Louisville or 36 to Virginia Tech.
8 Wins A Stretch
In order to reach eight wins again, Wake Forest will likely need to win its first three games with App. State being the biggest test. Get past those and reaching seven wins should be within reach given home games against Syracuse and Boston College.
Of course, the Demon Deacons will need to get an upset or two along the way, which could be road games against teams like NC State or Louisville. The ACC is filled with mediocre competition and that's where Wake fits in after going 4-4 last year.
Throw in Notre Dame on the schedule and eight wins are out of the question unless Hartman is awesome at quarterback and the defense goes to another level with a touch more talent.
2020 Wake Forest Demon Deacons Schedule
Sept. 4 at Old Dominion
Sept. 11 vs. Appalachian State
Sept. 19 vs. Villanova
Sept. 26 vs. Notre Dame (Bank of America Stadium, Charlotte) (WF +21.5)
Oct. 3 at Duke
Oct. 9 vs. Miami (FL)
Oct. 17 at Florida State
Oct. 31 at NC State
Nov. 7 vs. Syracuse
Nov. 14 at Louisville
Nov. 21 vs. Clemson
Nov. 28 vs. Boston College