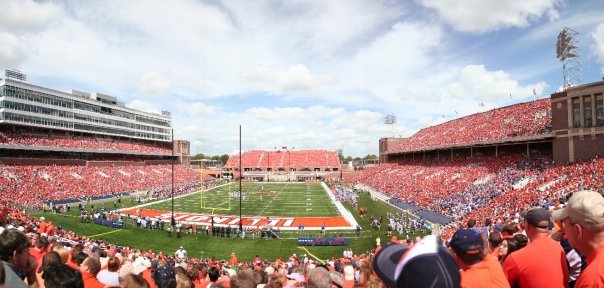 Lovie Smith made it to his first bowl in four years at Illinois last season, but it wasn't easy. The Fighting Illini got weird wins against Wisconsin and MSU, but they also lost to EMU and lost the final three games of the season, including the bowl.
More consistency would be nice, but oddsmakers are expecting another campaign without a bowl. They had an early preseason over/under of 5 wins with +1000 to 1 odds to win the National Championship, same as Rutgers.
Offense Could Improve
The offense could be better in 2020, but that's far from a guarantee after averaging 329.5 yards and 26.7 points per game. At the least, quarterback Brandon Peters has another year after averaging a poor 6.9 yards per attempt and completing 55.3% of his passes.
If he has some iffy games against sub par competition early, fans may be hammering for one of the younger guys to take over, possibly Isaiah Williams, who attempted 10 passes last year. 
Otherwise, the offense is mostly set and that starts with four guys back along the line. They weren't great last year, but another year should help. Ra'Von Bonner (225 yards) should take over as the top running back, though top recruit Reggie Love could eventually steal that spot.
Helping Peters is a solid receiving corps led by Josh Imatorbhebhe (639 yards, 9 TDs) and Love's high school teammate, James Frenchie.
Defense Gave Up 25 Points Per Game
The Illinois defense has yet to come to fruition under Lovie Smith, though it was at least serviceable at times last season, allowing 25.4 points per game.
Sure, there were the usual struggles and they gave up 35 points to a bad Cal offense in the bowl, but there are some intriguing pieces for the new campaign.
Juco recruit Lavar Gardner is set to take over for stud linebacker Dele Harding, while Jake Hansen returns from injury and Milo Eifler gets another chance to show why he was originally recruited to Washington.
The line loses a few starters, so that will bring some growing pains without a true offseason, but new recruits like Cooper Davis could make a mark early. The secondary is in a better situation with safety Sydney Brown and two senior corners, but if the line doesn't step up, that may not matter.
Bowl Game In Doubt
If Illinois doesn't win its first three games, it could be hard to reach six wins unless this team manages some more weird upsets. At the least, the road schedule is fairly manageable with upsets possible against any of the Big Ten opponents.
Getting teams like Minnesota, Iowa and Ohio State at home doesn't help, but this team beat Wisconsin last year, so those aren't automatic losses. There's always the chance the Illini return to normal and lose every game they're supposed to, which would likely lead to four or five wins.
On the other end of that, if Peters can improve and the offense shows more consistency, there are chances for numerous road upsets against mediocre Big Ten teams.
2020 Illinois Fighting Illini Schedule
Sept. 4 vs. Illinois State
Sept. 12 vs. Connecticut
Sept. 19 vs. Bowling Green
Oct. 3 at Rutgers
Oct. 10 at Nebraska
Oct. 17 vs. Purdue
Oct. 24 vs. Minnesota
Oct. 31 at Wisconsin
Nov. 7 vs. Iowa
Nov. 14 at Indiana
Nov. 21 vs. Ohio State
Nov. 28 at Northwestern