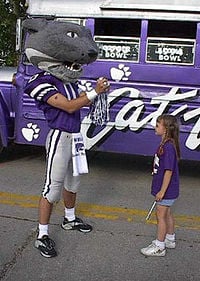 Kansas State had a decent bit of success in Chris Klieman's first season in charge and reaching eight wins should be the goal in 2020. Maybe some of that success had to do with schedule, but wins against Oklahoma and Iowa State were nice, though the bowl loss to Navy ended things on a sour note.
Oddsmakers don't have as much faith in the Wildcats this year as they had an early preseason over/under of 6 wins with +500 to 1 odds to win the National Championship, same as Kansas.
Offense Struggled Last Season
On one end, K State had eight wins last season, but on the other, five of those came by seven points or less. That's because the offense struggled to separate itself, averaging 358.9 yards and 29.6 points per game.
Improvement is possible because quarterback Skylar Thompson is back, but he also limits upside in this offense. While Thompson provides experience, he threw just 12 touchdowns and completed less than 60% of his passes last year. His selling point is the 405 rushing yards and 11 touchdowns. 
On the positive side, receiver will be fairly balanced with Malik Knowles (397 yards, 3 TDs) stepping in as the top target alongside Josh Youngblood and a slew of other returning options.
In the backfield, Harry Trotter (263 yards) and Tyler Burns will get the first crack to be the top ball carrier. The issue is that four starters are gone from the line, which means the run-first offense could have some early issues.
Rush Defense Needs Improvement
For the lack of offensive upside to not be an issue, the defense has to repeat last year's numbers, allowing 364 yards and 21.5 points per game. The rush defense wasn't great, giving up 152.3 yards per contest, but it did enough.
Unfortunately, rush defense could again be an issue because while Wyatt Hubert (7.5 sacks) is a nice piece, the options around him are all new. Linebacker Elijah Sullivan is the only other returning starter from the front six of the 4-2-5 scheme.
Over 6 Wins In Play
The ability of Hubert helped the secondary out a ton last year and that should be the case again with seniors Jahron McPherson and AJ Parker floating around. This group will still have some issues, but if it can do enough against weaker teams, that should at least lead to a bowl game.
The non-conference schedule is somewhat more favorable this year so another 3-0 start is in the cards for K State. The problem is that the Big 12 slate features five road games and two of its home games are against Texas and OK State.
That's the main reason they have an over/under at six wins. But surpassing three wins in conference play wouldn't be that surprising, especially with home games against KU and Texas Tech.
Sure, the Wildcats will need to get a couple road wins in conference play, but it's not like they were a bad road team last year as they almost took down Texas. Either way, it'd be surprising if they didn't reach six wins, which makes the over six wins a decent bet.
2020 Kansas State Wildcats Schedule
Sept. 5 vs. Buffalo
Sept. 12 vs. North Dakota
Sept. 19 vs. Vanderbilt
Sept. 26 at West Virginia
Oct. 3 vs. Texas
Oct. 10 vs. Kansas
Oct. 17 at TCU
Oct. 29 at Iowa State
Nov. 7 vs. Texas Tech
Nov. 14 at Oklahoma
Nov. 21 vs. Oklahoma State
Nov. 28 at Baylor