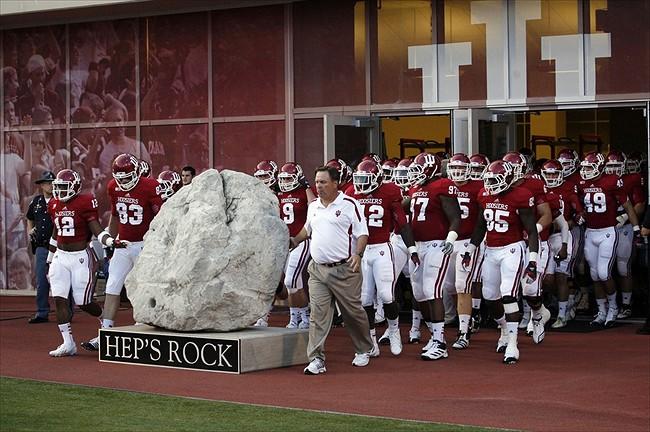 Indiana got over its hump last year and went 8-5, though couldn't take down Tennessee in the Gator Bowl and now has to deal with expectations. The tools are there, but playing as an underdog is usually easier, making 2020 a bit different for the Hoosiers.
With their quarterback in place, the early preseason over/under at 5Dimes was 7.5 wins with +300 to 1 odds at betonline to win the National Championship, same as Michigan State in the Big Ten East division.
QB Michael Penix Leads Offense
While the Hoosiers have a new coordinator in Nick Sheridan, the former TEs coach, the offense isn't expected to change much. Everything will fall to quarterback Michael Penix Jr., who averaged 8.7 yards per attempt and completed 68.8% of his passes in six games prior to injury.
If he can stay healthy, they should come near last year's 432.8 yards and 31.8 points per game, but if not, backup is unknown.
If healthy, the options are there whether it's Stevie Scott (845 yards, 10 TDs) out of the backfield or top receivers Whop Philyor (1,002 yards, 5 TDs) and Ty Fryfogle (604 yards, 3 TDs), and tight end Peyton Hendershot (622 yards, 4 TDs). The line wasn't a strong suit last year and while that could be the case again, Penix's mobility definitely helps.
Defense Key for Continued Success 
To continue last year's success, Indiana will need more from its defense, which always seems to be a problem. The Hoosiers gave up a solid 24.5 points per game last season, but a lot of that was because of schedule as they were throttled by more difficult competition.
Similar to the offensive end, the players are there for improvement and to build on last year's success. Top recruit, lineman Damarjhe Lewis could give the front a jolt, as he spurned some better schools to go to IU.
There are players returning at every level from Jerome Johnson (five sacks) on the line and linebacker Micah McFadden to playmaker Marcelino Ball and Devon Matthews in the secondary. Consistency could again be a problem, but there's no reason they can't hold down weaker teams on the schedule.
Unfortunately for Indiana and Tom Allen, it will likely start the campaign with a loss at Wisconsin and then the home game against WKU is far from a freebie. While the early schedule looks nice outside of Wisconsin, things get a bit difficult in the second half.
It could be vital for the Hoosiers to win at home against MSU or PSU because November trips to OSU and UM will likely be losses. If they can win home games they are supposed to and then beat a team like Michigan State or Penn State, the schedule is there for another eight wins.
That may be asking a lot from Indiana, but Penix is a legit threat at quarterback and the defense could go to another level with a touch more experience to help.
2020 Indiana Hoosiers Schedule
Sept. 4 at Wisconsin (early preseason line IU +12.5)
Sept. 12 vs. Western Kentucky
Sept. 19 vs. Ball State
Sept. 26 at Connecticut
Oct. 10 vs. Maryland
Oct. 17 at Rutgers
Oct. 24 vs. Michigan State
Oct. 31 vs. Penn State
Nov. 7 at Ohio State
Nov. 14 vs. Illinois
Nov. 21 at Michigan
Nov. 28 vs. Purdue