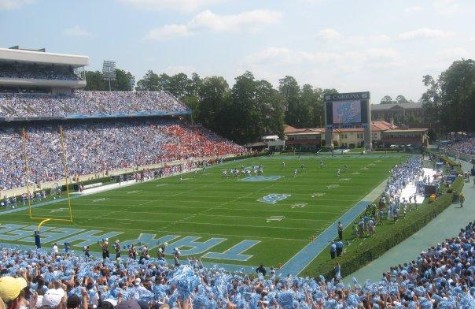 The North Carolina Tarheels will host in state rival NC State this Saturday in a game scheduled to kick off at 12 noon est. As of this writing on Thursday, North Carolina is favored by anywhere from -14.5 to -15.5 with a total of 61.
Bet the game at the best 5 dimes replacement book! BetAnySports
This game has seen some very interesting early line movement. The game opened at NC -14.5 last Sunday. Late Sunday night there was a strong across theboard steam move on the Tarheels, pushing the number to -16.5.
On Monday, some shops were showing NC favored by as much as -17.5. Then on Wednesday, a strong across the board move came in on NC State which dropped the number back to where it started and where it sits now.
It can be difficult to judge big line moves early in the week. Lines are often manipulated by large bettors like Billy Walters or other large groups. They'll prop a line up in one direction only to come back later in the week when limits are higher on the opposite side.
Is that the case here? We'll see. We can only answer that when the game kicks off and we see where the line closes.
NC State A Live Dog
From our perspective though, we think NC State is a live dog and worth a look here.
These two teams, historically, are close in talent. They recruit from the same pool. They compete for the same players and it's a big rivalry, every year.
You'd have to go back to the late 80's to find two consecutive years where one team beat the other by more than 14 points.
In 2008 NC St won 41-10. The following year it was a 1 point game.
In 2014 NC State won 35-7. The following year, NC won 45-34.
NC won 41-10 last year. Historically, in this series, a lopsided result has been followed by a close game.
6, 12, 7, 11, 28, 8, 8, 13, 4, 1 – those are the margins of victory over the last 10 games.
If you gave NC State +14.5 points in every game in the series over the last 16 years you would have gone 14-2 against the number and it goes on well past 16 years and those margins include both teams winning.
That's just to illustrate that historically, these teams are close in talent and it's unusual in this series to see one team win by a margin like the 41-10 last season and extremely unusual for it to happen two years in a row.
Note that we're aware of the QB issue at NC State and don't think it matters. The kid who gets the start started the first two games and played last week.
It's a rivalry, both teams are ranked, NC State is 4-1 and NC is 3-1 AND the numbers we like to look at including the models prediction support the play.
2% Key Release NC State +14.5 or better
***Watch the board if you can as +17 could become available again!!