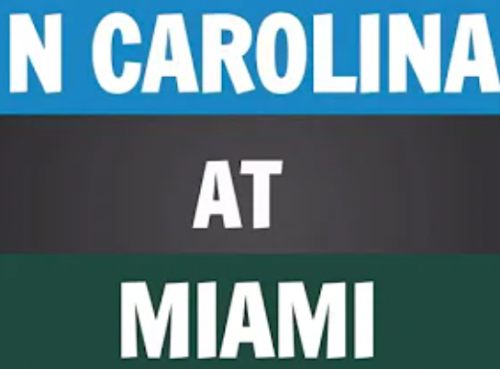 This game doesn't have much meaning in the ACC, but it may be the most exciting matchup of the weekend. North Carolina and Miami each had aspirations of making the ACC title game in a normal season, but the addition of Notre Dame changed those plans amid COVID-19. Playing at home, the Hurricanes are -3 point favorites with a total of 67.5.
Bet the game with reduced juice at BetAnySports!
Miami hasn't had the cleanest season, but it has just one loss which came against Clemson. Otherwise, it escaped against teams like NC State and Virginia Tech, and beat almost everyone else fairly easily. This isn't an elite Miami team, but it's one of the most balanced groups they've had in recent seasons.
D'Eriq King A Difference Maker
Quarterback D'Eriq King has transformed the offense into a legit group, averaging 34.9 points per game. He's averaging 8.2 yards per attempt for 20 touchdowns and four interceptions, which are great numbers when combined with his 467 rushing yards and four more touchdowns.
The offense isn't the best in the ACC, but it's above average, which is all Miami needs to be better than prior seasons. Running back Cam'Ron Harris is the rest of the offense, averaging 5.2 yards per carry for 567 yards and eight touchdowns.
The 'Canes should have no problem moving the ball behind King, mainly because the Heels allow more than 400 yards and 28.6 points per game. They were actually competitive against Notre Dame, but have had some really ugly outings this season, allowing 40-plus points numerous times.
Miami Defense Could be the Key
Miami's defense could end up being the edge in this matchup, allowing 22 points per game for the season. But similar to UNC, they've had consistency issues. Miami shutout Duke last week, but they couldn't stop NC State and VT in prior contests.
North Carolina has huge offensive numbers, but some of that has to do with competition. They couldn't really do anything against Notre Dame and haven't looked the best on the road like in early games against BC and FSU.
Still, it's hard to dismiss the numbers. Quarterback Sam Howell is averaging 10.5 yards per attempt for 26 touchdowns and six picks, most of his looks going to top wideouts Dyami Brown and Dazz Newsome.
That said, the running back duo of Michael Carter and Javonte Williams has been more dominant, as the two are both above 900 rushing yards, each at more than 6.5 yards per carry.
Miami's main goal will be to stop that rushing attack where they've been fine this season, allowing 3.9 yards per carry and 139 yards per game. The Hurricanes probably have the better overall team, but the Tar Heels have the more potent offense and that's what'll keep this game competitive.
Both teams should score, but the deciding factor may be how much Miami can limit UNC's offense, if at all.
Our Pick – Miami -3