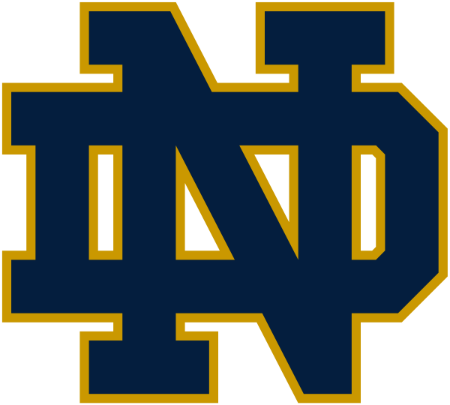 Notre Dame is coming off its biggest win in recent history and its hope this week is that it doesn't have a COVID outbreak after students rushed the field after beating Clemson.
Not only that, but it's an obvious let down spot at Boston College, who is 5-3 and has been competitive in almost every game. The Fighting Irish are -13.5 point road favorites with an over/under of 50.
Solid Performance for ND
Notre Dame put everything into last week and it finally paid off, taking down Clemson 47-40 in overtime. Despite the high score, it was a solid all-around performance against what was thought to be the best team in the country.
Sure, Trevor Lawrence didn't play, but the Irish still held the Tigers to just 34 rushing yards on 1.0 yards per carry. On the other end, Ian Book did just enough, tossing for 310 yards and a touchdown while running for 68 more yards. In total, the Irish ran for 209 yards and three touchdowns against an elite Clemson defense.
Some will look to last year's 40-7 result and automatically bet Notre Dame against Boston College, however, in addition to this coming after the Clemson game, BC is a different team this season under new head coach Jeff Hafley.
BC Competitive
It's not pretty, but the Eagles have been competitive, losing to UNC and Clemson by a combined 10 points. Sure, the offense is still hit-or-miss and only scored 16 points against Syracuse last week, but it's had some solid performances.
BC's offense is the main question in this game because Notre Dame's defensive front should have the advantage. The Irish are allowing less than 90 rushing yards per contest, while the Eagles simply haven't ran the ball against anyone, averaging 3.1 yards per carry as a team.
Running back David Bailey ran for 125 yards last week, but he's averaging 3.9 ypc on the season for 429 yards. Similar to previous games, scoring will likely come down to quarterback Phil Jurkovec, who is averaging a mediocre 7.5 yards per pass for 15 touchdowns and four interceptions.
Despite having solid overall numbers, he hasn't thrown for more than 208 yards in any of the last three games and that's not going to be enough in this matchup. BC got a bit lucky and scored 28 first-half points against Clemson, but that's not expected to happen again.
ND Should Run at Will
The other issue is BC's rush defense, which gave up 350 rushing yards to Virginia Tech. Book hasn't exactly lit up opponents, but he can move the chains with his legs and running back Kyren Williams is averaging 5.8 yards per carry for 740 yards.
Notre Dame's rushing attack is what separated it from Clemson and that could be what happens in this matchup. While a letdown is definitely in play, Notre Dame has an edge on both lines of scrimmage, which usually makes upsets harder to pull off.
The Eagles have been competitive, but something will need to change either in their ground game or with their rush defense. Otherwise, the Fighting Irish have a noticeable edge in both areas and that could be enough to cover, assuming they don't take this matchup off.
Our Pick 
Of course we need to be leery of a letdown, coming off such a huge game and win over Clemson.
In fact, Boston College may be worth a look as a 1st quarter of 1st half pick. However, once the Irish get rolling, this game has the potential to be a route and it's the mismatch in the running game, as mentioned above, that will be the difference.
Notre Dame -13.5