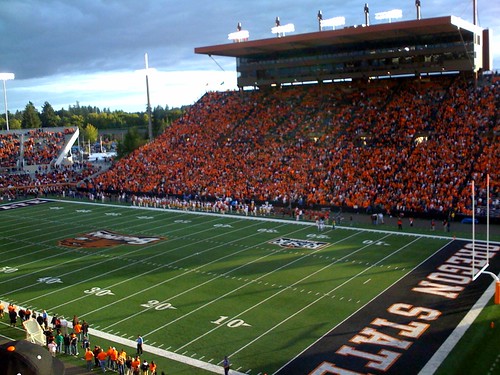 Oregon State made some strides in its second season under Jonathan Smith, reaching five wins, the first time since 2014. Getting to a bowl is the next task for the Beavers but something that will take a lot of work.
At the least, they are no longer a free win on the schedule, as four Pac-12 teams found out last season. Their early preseason over/under sat at 5 wins, but their +75 to 1 odds to win the Pac-12 were second to last in the conference.
QB Search is On
The main objective for Oregon State's offense is to find a new quarterback to hopefully match last season's numbers, averaging 411.8 yards and 31.2 points per game.
Former backup Tristan Gebbia has the leg up, but that's far from certain. Maybe a bigger problem is finding three new starters on the line without a full offseason.
No matter who is at quarterback, the line needs to be figured out before expecting to hit last year's numbers.
The other hope is that running back Jermar Jefferson can step up in his junior season. After rushing for 1,380 yards and 12 touchdowns as a freshman, he managed 685 yards and eight touchdowns in a split role last year.
If he can take over again, that'd be a nice help. The other quest is finding another No. 1 receiver with Champ Flemings (457 yards) and Trevon Bradford (121 yards) the top candidates.
Defensive Improvement a Must
On the other side of the ball, more growth is needed after an improved 2019 saw them limit opponents to 445.7 yards and 32.5 points per game. Those aren't great numbers, but they were acceptable for OSU's standards.
Fortunately, improvement is possible with stud linebacker Hamilcar Rashed Jr. back for another year after racking up 22.5 tackles for loss.
Even better, fellow linebackers Avery Roberts and Omar Speights showed they could step up alongside Rashed and that'll be a highlight of the defense.
The important thing is that other units improve, whether it's transfers helping Jordan Whittley and Isaac Hodgins on the line, or someone other than safety David Morris stepping up on the back end.
Looks Like a 6 or 7 Win Season
While the opening trip to OK State is unfavorable, there's a chance Oregon State wins its next three games if all goes well.
Following that, home games against Cal, UCLA and Arizona also present winnable opportunities, while anything else may be a stretch. Ideally, that will be their path to six wins, but it's hard to chalk in home wins for the Beavers given a new quarterback and overhauled offensive line.
The defense could be better, but betting on their defense has never been something to consider in the past.
2020 Oregon State Beavers Schedule
Sept. 3 at Oklahoma State (early preseason line OSU +16.5)
Sept. 12 vs. Colorado State
Sept. 19 vs. Portland State
Sept. 26 vs. Washington State
Oct. 3 at Arizona State
Oct. 10 at Washington
Oct. 24 vs. California
Oct. 30 at Stanford
Nov. 7 vs. UCLA
Nov. 14 at Utah
Nov. 21 vs. Arizona
Nov. 28 vs. Oregon