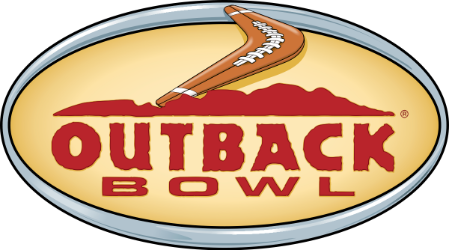 Ole Miss Rebels (4-5 4-5 ATS) vs. #11 Indiana Hoosiers (6-1 7-0 ATS)
Ole Miss finished 4-5 on the season and in the Outback Bowl face an 11th ranked Indiana team, whose only loss was to an Ohio State team that is in the College Football Playoffs. Indiana is the 6.5-point favorite in this bowl game with a high total of 66.5.
While Indiana had a much better record than Ole Miss and is ranked the public has backed the Rebels. Ole Miss opened as a 7.5-point underdog and as of Saturday, December 26th is a 6.5-point dog.
This will be the first-ever meeting between these teams.
This game will be held at a neutral site at Raymond James Stadium in Tampa Bay, Florida.
Ole Miss had four wins this season, all in SEC play, but none of the wins came facing a team with a winning record. Their highlight may have been a loss when they put up 48 points against Alabama but gave up 63 points.
The Rebels have an offense that ranks 13th in the nation in ppg (40.9) and are balanced ranking in the top 20 in passing and rushing yards per game. However, they ha the sixth-worst scoring D in the nation giving up an average of 40.3 ppg.
Even in an abbreviated season, Indiana had one of their best ones and they beat three ranked teams. While not as high-scoring as Ole Miss (30.1 ppg) the defense for the Hoosiers was solid giving up an average of 10.4 ppg.
A Shootout Would Be Good for the Rebels
Ole Miss would love to get into a shootout with IU, as they will not be able to win a defensive battle against them.
Matt Corral leads the Rebels and on the season he passed for 27 TD with 14 INT. 11 of his INT came in two games with one the last one where he was picked off five times in a 53-48 shootout loss against LSU.
The one player the Hoosiers really have to worry about is WR Elijah Moore, who is slated to be a high pick in the next NFL draft. He had 1,193 receiving yards with eight TD and had at least 225 yards in two straight games before "only" having 139 in the loss to LSU. He had 86 catches this season while the next leading target had 27.
Jerrion Ealy leads three RB's that had at least 378 rushing yards this season but struggled in the loss to LSU while totaling 177 yards in his previous two games.
Indiana has a balanced and solid defense that held Wisconsin to only 87 rushing yards in the last game but did give up 202 passing yards.
Can The Hoosiers End a Perfect ATS Season?
Indiana covered the spread in all seven games this season even in their 7-point loss to Ohio State.
Indiana looks to end their banner season with a W in the Outback Bowl. They had a HUGE win in their finale beating a 16th ranked Wisconsin team even though they were outgained 342 yards to 217 yards.
The Hoosiers were led by the passing offense this year but Michael Penix Jr. went down with a season ending injury in the Maryland game.
Their rushing offense only ranks 118th in the nation.
Ty Fryfogle and Whop Philyor are the top two WR's for Indiana and Fryfogle averaged 20.2 yards per catch.
Stevie Scott III led IU with 462 rushing yards but only averaged 3.4 yards per carry and averaged over 3.9 yards per carry in only one game this season.
Ole Miss ranked dead last in the nation this season giving up an average of 316.3 passing yards per game.
Our Pick
This game would have been a blast if Michael Penix Jr. was still behind center for the Hoosiers. This game lost even more luster when Ole Miss' top two receivers decided to opt out.
So, what we have here, is a total line that was largely set with season long stats for both teams in mind. Both teams have obviously lost some offensive production, especially the Hoosiers.
Because of the absence of Penix, we're not only going to play this game under the total but we'll also back Ole Miss as the Hoosiers figure to have trouble extending a margin without their top play-maker.
Ole Miss +8.5
UNDER 65.5