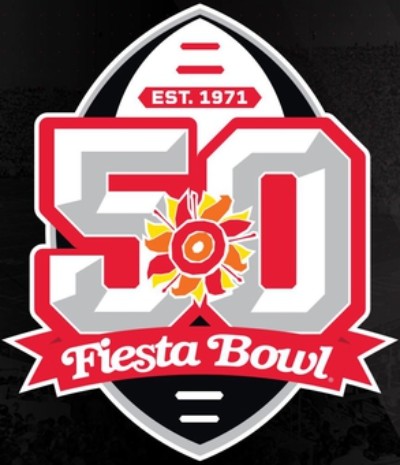 The Fiesta Bowl is yet another weird New Year's Six matchup in which Oregon comes in at 4-2 after beating USC in the Pac-12 Championship Game. Iowa State lost to Louisiana early in the season, but managed an 8-2 Big 12 record, including the title loss to Oklahoma.
The Cyclones were early -4.5 point favorites with an over/under of 57.5 for the game at State Farm Stadium in Glendale, Arizona.
Oregon Just 6 Games
There's not a ton known about Oregon through six games, only that it lost back-to-back games to Oregon State and Cal, and still made the title game.
Of note, those teams finished a combined 3-7. They beat USC, but it was mainly because of defense and a slew of interceptions. The Ducks won 31-24 despite totaling 243 yards.
To win this game, Oregon's defense will need to show up, something that didn't consistently happen this season. They forced turnovers against USC, but also gave up 30-plus points to UCLA and OSU.
Ducks Allow 4.2 YPC
Most relevant for this matchup is that they're allowing 4.2 yards per carry and that's where Iowa State will look to attack.
Running back Breece Hall will receive at least 20 carries and the final result will depend on how he does. He's been awesome for the season, totaling 1,436 yards and 19 touchdowns on 5.9 yards per carry.
He'll be fed early and often, and even if he doesn't go for 200 yards, quarterback Brock Purdy is still capable of completing passes and moving the chains.
Purdy: 7.7 Yards Per Pass
In addition to rushing for 343 yards, Purdy's averaging 7.7 yards per pass on 66.4% completion. However, he has nine interceptions this season and that's the main thing he can't do after tossing three picks against Oklahoma last game.
Unless Oregon's defense really steps up, Iowa State should move the ball and put points on the board.
The Cyclones are favored because they also have a stout defense, allowing 21.8 points per game and just 3.2 yards per carry. They beat Oklahoma in the first meeting because of defense and then held them to 27 points in the loss.
Not the Same Ducks Offense
The Ducks have had some high-scoring performances, but this isn't the same offense of previous seasons. They've scored against bad defenses, but then couldn't do anything against USC outside of scoring touchdowns on short fields following turnovers.
Sophomore quarterback Tyler Shough has been serviceable with 13 touchdowns and five interceptions on 9.4 yards per attempt, but he didn't really do anything the last couple games of the season.
It wouldn't be surprising if Boston College transfer Anthony Brown saw a bit more action after being used in the red zone against USC and tossing a couple touchdowns. The Ducks still want to focus on the ground game where Travis Dye is averaging 7.0 yards per carry and CJ Verdell is slightly behind at 4.4.
But if that doesn't work against a good ISU defensive front, everything will be up to Slough to move the ball. The Ducks have played just six games and have looked mediocre for the most part, while the Cyclones have played almost a full season and have plenty of motivation to close their campaign with a win. While the early loss to Louisiana looks bad, this is a different team and one that has more experience than Oregon.
Iowa State -4