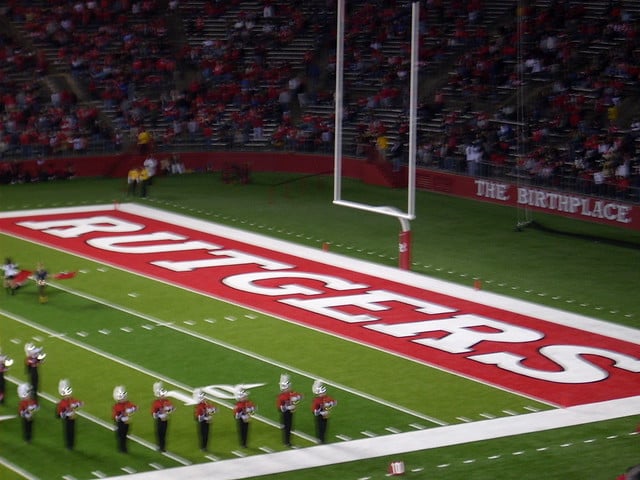 It's another season of Rutgers football and another season of limited projections. Coming off a two-win campaign (three wins in two seasons), expectations are still capped even with Greg Schiano back in charge.
He brought success to the Scarlet Knights a decade ago, but he had three wins his first two seasons and failed to make a bowl in his first four. Their early preseason over/under sat at 2.5 wins with the worst odds to win the Big Ten.
The offense has a lot of unknowns and not many know what it will look like after a blank spring. New coordinator Sean Gleeson served at OK State for one year and will likely focus on some sort of spread scheme.
While that sounds nice, Rutgers averaged 273.1 yards and 13.3 points per game last year and are set for another quarterback battle. Artur Sitkowski and Johnny Langan are the biggest contenders, but it wouldn't be surprising if they turned to a freshman at some point and it doesn't help that only two starters are expected back on the line.
The running backs may be the deepest group on the team, but that may not matter if the line doesn't improve. At the least, Isaih Pacheco (729 yards, 7 TDs) averaged 4.3 yards per carry last season while Kay'Ron Adams and Aaron Young could steal some carries. Bo Melton (427 yards) is a nice receiving option, but there are questions everywhere else given how defunct the passing game has been of late.
It's not much better on the defensive side after allowing 433.6 yards and 36.7 points per game. New coordinator Robb Smith led the 2012 version at Rutgers en route to some of the best numbers in the nation, but there's a reason he hasn't stuck anywhere since, most recently serving as an analyst for Texas A&M. 
There are at least building blocks for this group to not be the worst in the country. Senior tackle Julius Turner is a good player to build around on the line, while linebacker has loads of experience.
In addition to three senior starters, the two-deep also has starting experience. Ohio State transfer Brendon White could help at safety to aid corners Avery Young and Tre Avery. While experience is nice, it doesn't always mean something positive, especially from one of the worst defenses around.
More money is on the under 2.5 wins for Rutgers because there aren't obvious spots for win possibilities outside of the opener against Monmouth. Home games against Syracuse, Illinois and Indiana are fine, but it's unlikely Rutgers will be favored in any of them.
And before they win games, they'll need to figure out their quarterback. It's a tall task for Schiano and crew, and the schedule is unlikely to help in his first season back.
Maybe the Scarlet Knights will find an upset or two, but betting on that to happen doesn't seem like a smart play.
2020 Rutgers Scarlet Knights Schedule
Sept. 5 vs. Monmouth
Sept. 12 vs. Syracuse
Sept. 19 at Temple
Sept. 26 at Ohio State
Oct. 3 vs. Illinois
Oct. 10 at Purdue
Oct. 17 vs. Indiana
Oct. 24 vs. Nebraska
Oct. 31 at Maryland
Nov. 14 vs. Michigan
Nov. 21 at Michigan State
Nov. 28 vs. Penn State